Annual Gala 2016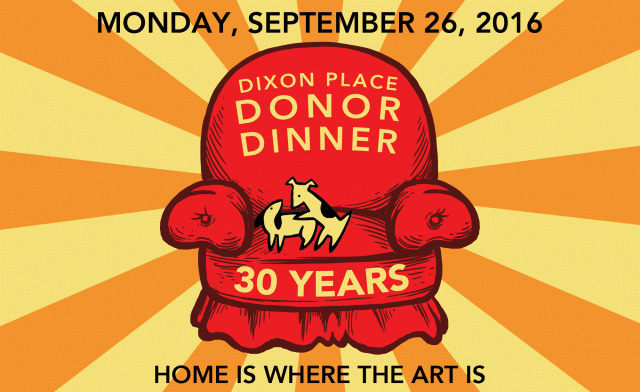 The biggest, best celebration evah!
A glamorous down-home spectacle to 'bankroll' Dixon Place, featuring an extraordinary 'home-made' dinner and special appearances by a stellar cast of performing artists!
Plus a Silent & Live Auction with fabulous vacations, theater tickets, dinners, dance lessons, jewelry & much more!
This event promises to be like no other. Guaranteed to blow you away – or your money back. In other words, don't even THINK of not coming.
HONORING
Deborah Glick, the first openly lesbian member of the New York State Assembly, will be honored for her visionary leadership and unwavering commitment to the arts.
More on Assemblywoman Glick's accomplishments >
WITH UNFORGETTABLE PERFORMANCES BY
PLUS A SILENT & LIVE AUCTION
Pick your favorites from our long list of alluring silent auction items, including fabulous vacations, theatre tickets, dinners, dance lessons, jewelry & much more!
All proceeds from the auction will support another season of important works by artists of all stripes & callings.
OTHER IMPORTANT INFORMATION
Food Creation by Michael Howett and Richard Bach
Flowers by Steven DeLaTorre & Carolyn Gregg / Flower Design L.P.
SPECIAL THANKS TO
Our neighborhood partners—The Masala Wala for the buffet of delicious Indian food for Starving Artists and Students, and Ceci Cela for the delectable petits-fours & truffles.
RAPTURE COMMITTEE
30 Divine Folks Make Tonight Extra Special!
Frieda Arth ♦ Gerard Anthony Cabrera ♦ Christen Clifford ♦ Tom Cole ♦ Dick Connette ♦ Ellie Covan ♦ Patricia Flanagan ♦ Jane Friedman ♦ Carle Groome ♦ Tracy Hatton ♦ Jared Hohlt ♦ Christian Hudson ♦ Yoshiko Kasuga ♦ Seth King ♦ Karen Korman ♦ Lisa Kron ♦ Jayson Jarushewsky ♦ Eric Jensen ♦ Jeff Jones ♦ James Lecesne ♦ Amy Lesser ♦ Gale Mayron ♦ Lisa Meyer ♦ Charles Mileski ♦ Emily Morgan ♦ Willard Morgan ♦ Felipe Ossa ♦ Catherine Porter ♦ Barry Rowell ♦ Ira Sachs ♦ David Schweizer ♦ Lucy Sexton ♦ Boris Torres ♦ Sangeeta Yesley
Monday, September 26 at 6pm

share £