Dietrich Rides Again
Just More Theatre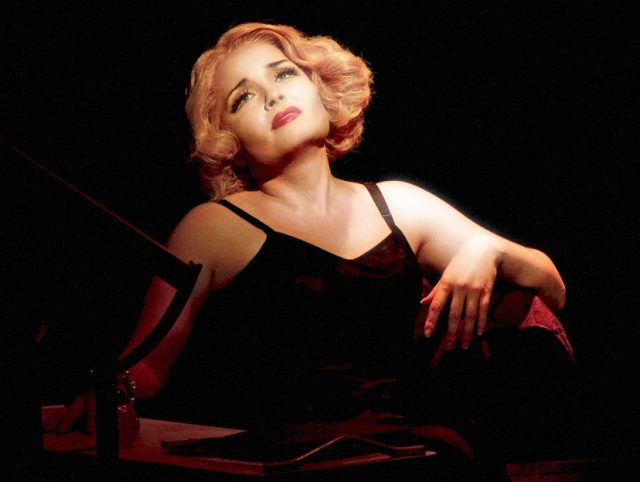 About This Show
A timeless struggle for acceptance. A timely story of a woman's power. The mystery. The history. An enduring icon of feminine strength back in the spotlight for a new generation. Gender fluidity. Female empowerment. Standing up to bullies. She wore the pants. She called the shots. In a world where men in power are toppling, it's good to remember a woman who was always on top. If she were around today, the Hollywood men's club might have toppled sooner. Dietrich. A legend.
Make up session with Justyna Kostek as she becomes Marlene Dietrich
Bound to Rise (Justyna Kostek, Oliver Conant, John Burgos have worked on this production):
The Cheating Flea (Justyna Kostek performs it with Polish Theatre Institute throughout NY, NJ, CT, PA)
Video improvisation created by Oliver Conant & Justyna Kostek
about the artists
Justyna Kostek (co-writer and performer) is an actor and director from Poland, serves as a lead actress and co-writer of Dietrich Rides Again. Justyna has a lot of experience acting in experimental theatre since she was 7 years old! She had her own theatre company established in Denmark that she performed with all over Europe (Atelier Teatral). Since she arrived in NYC she has established a theatre company, Just More Theatre Inc.; directed and starred in the musical comedy Helen of Troy, NY; starred and directed in Women of History Fashion Show, played a lead in the musical comedy, Bound to Rise, at Medicine Show Theatre and performed multiple roles in The Cheating Flea by Jan Brzechwa with the Polish Theatre Institute for kids throughout New York, New Jersey, Pennsylvania and Connecticut. Many of her qualities such as her strong work ethic, love of theatre and comedy are similar to Dietrich's. Justyna loves both acting and directing again like Marlene Dietrich who by all accounts took over some of the directing tasks of Stage Fright from the notoriously standoffish Alfred Hitchcock.
Oliver Conant (co-writer and director) serves as a director of Dietrich Rides Again and has also co-written this musical. He is a NYC based director, playwright and an actor with Broadway and Hollywood credits, whose playlet Sup Bro, Where You At was performed at Dixon Place in October of 2016. He serves as a dramaturgical consultant and is on the board of directors for Medicine Show Theatre and has worked with a variety of other companies in the non-commercial theatre scene in New York including Queen Shakespeare, Nicu's Spoon, Judith Shakespeare and Frog and Peach. As a youngster, he was introduced to Greta Garbo by Salka Viertel and has always felt somehow connected to the extraordinary congregation of talent in the emigre community in Hollywood.
reviews
Here's what the reviewers are saying:
Sensational…
"I know Marlene died in 1992, but the one-person show Dietrich Rides Again could have fooled most people. This sensational play about her life was excellent, well thought out, and performed masterfully by the actress…. Ms. Kostek looked like Marlene, sounded like her, and her portrayal was stunningly realistic. There were times when I thought the real Marlene was on stage. …Dietrich Rides Again is timely, so relevant for our time, and a MUST SEE event."
– Don Rittner, TimesUnion"
Audacious…
"The work of two imaginative artists, director Oliver Conant and star Justyna Kostek. Dietrich's fearless history deserves an audacious reiteration, and in Dietrich Rides Again, Conant and Kostek reward her with exactly that.…. Kostek looks like the young Dietrich.… she adds curiously comic, impish touches to her passionate interpretation. Her performance was greatly enjoyed."
– Myra Chanin, TheaterPizzazz.com
Sprightly
"A sprightly show that tells you a lot about Dietrich that most people already know but gives some intriguing glimpses into her personal (bisexual) life with which people, even fans, are not familiar…. What is interesting about the show is how Kostek concentrates on Dietrich's flight from Germany in the early 1930s as Hitler rises to power…. Kostek does a fine job in the show…. First, she brought Marlene Dietrich back to life for a younger generation of people who know little about her. Second, she delivered a lot of German and U.S. history and explained how much work Dietrich did for the USO during the conflict in a colorful and riveting way. … You want history? This is the show."
-Bruce Chadwick, History News Channel
Delightful…
The homage is clever. In many ways the show, conceived and executed by director Oliver Conant and its star, Justyna Kostek, is also clever, in addition to being a happy-making tribute. Kostek is delightful. She has a presence, knack for comedy and captivating charm on stage.
– Marilyn Lester, Nite Life Exchange
Impressive…
Ms. Kostek is only 24 and is impressive in many ways.
The direction by Mr. Conant is well done.
-Times Square Chronicles
Enjoyable
I thought of your interesting, informative and enjoyable revivification of Dietrich the other day when, while walking down the rue Boissière, heading toward the Musée Guimet, I came to the Place Marlene Dietrich.  I must say that your theatricalization was richer than this small and static salut offered by the Ville de Paris.  I hope others get the chance to see your production.
-Dick Howard, Esprit
Here's what the theater industry is saying:
Marlene lives again!
"Marlene lives again! The show reminds us of what
should never be forgotten: such beauty, such intelligence, such talent."
– Carol Ostrow, Broadway Producer
I loved it… 
"One woman's rare thoughtful portrayal of the life and love of one of Golden Hollywood's Film Icons. A reminder of a women who helped pioneer her industry. It's like spending a few hours with her ghost, I loved it. "
– Glen Kinnaird, Producer (Open Door Productions)
Go see it… 
"The anti-fascist, anti-war Dietrich Rides Again is about a figure deserving of memorializing and emulation in this 25th anniversary year of her death. Mrs. Kostek has the vocal and dramatic range, the looks and the moves. Go see it!"
-Leonard Lehrman, Founder and Director of Metropolitan Philharmonic Chorus
Insightful…
 "An insightful, intimate and meaningful journey. Well done! "
-Gerald vanHeerden, Award-winning Director
Here's what the audience is saying:
 Memorable…
 "A memorable show revealing the comedic talents of Marlene as well as her musical talent. Wonderful. I will definitely come see it again. A tremendous performance, one that I will remember for sometime to come. I will tell all my friends."
 – Ross
Most gratifying… 
"We're up in age but still long on memories. This has been a most gratifying experience for us."
– Francine & Arnold Weisler
Such humanity…
"Justyna Kostek embodies Marlene so perfectly–great attitude, yet such humanity and love for your motherland, Germany. I am German and you made me proud to say so. Thank you so much for giving your all!"
– Lynn
A must see…
Great Acting, Great Singing. Great Writing. A Great tribute to Marlena Dietrich. Entertaining. A Must See. The actress had Marlene's spirit perfectly and I thought for a moment she had risen from the dead. Great job. The show really honours Dietrich and you go away feeling like you spent an evening with her. I loved it."
– Don
 Amazing…
"I've been really looking forward to seeing Ms. Kostek becoming Marlene. We love the respectful immersion in the art and the power of being there in time. Also you, Justyna, are really saucy! Thank you Oliver and Justyna for your devotion and talent. We loved this show. It is destined to grow into the amazing incarnation it will become."
 – Sandy & Michael
Lovely…
"Oliver & Justyna – could really see the depth of your work and commitment. Lovely! It was very commanding and moving. You took your time. I loved the singing in German in particular – don't quite know why – but very glad it was there. Thank you for this great afternoon in the theatre!"
– Joel Bernstein
Wonderful...
 "You did something for me! Wonderful heartfelt performance–thank you!
– Joe
Friday, January 12, 2018 at 10pm
General Admission
$15 in advance
$18 at the door
Stu./Sen./idNYC
$12 in advance
$15 at the door
Estimated Runtime
65 minutes
share £
Credits
Written & Directed by
Oliver Conant
Written & Performed by
Justyna Kostek
Musical Direction & Arrangements
George Cork Maul
Choreography & Movement Consultant
Madeline Jaye
Lighting
Alex Moore
Costumes
Derek Lockwood
Makeup & Hair
John Cencio Burgos
Stage Manager
Glen Kinnaird
Photo credit:
John Cencio Burgos
Links