Dietrich Rides Again
Just More Theatre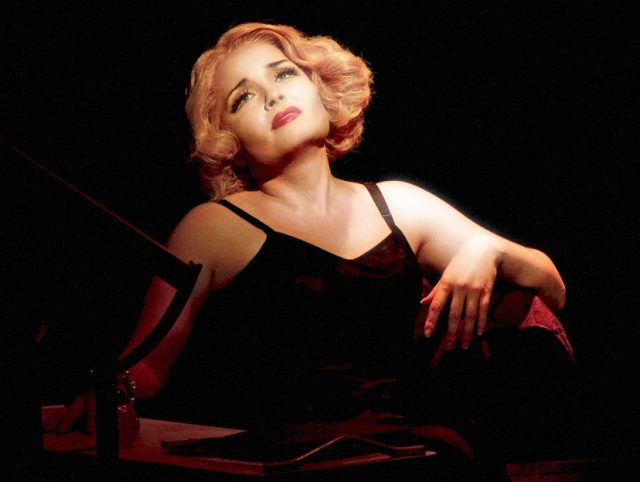 About This Show
A timeless struggle for acceptance. A timely story of a woman's power. The mystery. The history. An enduring icon of feminine strength back in the spotlight for a new generation. Gender fluidity. Female empowerment. Standing up to bullies. She wore the pants. She called the shots. In a world where men in power are toppling, it's good to remember a woman who was always on top. If she were around today, the Hollywood men's club might have toppled sooner. Dietrich. A legend.
Make up session with Justyna Kostek as she becomes Marlene Dietrich
Bound to Rise (Justyna Kostek, Oliver Conant, John Burgos has worked on that production):
The Cheating Flea (Justyna Kostek performs it with Polish Theatre Institute throughout NY, NJ, CT, PA)
Video improvisation created by Oliver Conant & Justyna Kostek
about the artists
Justyna Kostek (co-writer and performer) is an actor and director from Poland, serves as a lead actress and co-writer of Dietrich Rides Again. Justyna has a lot of experience acting in experimental theatre since she was 7 years old! She had her own theatre company established in Denmark that she performed with all over Europe (Atelier Teatral). Since she arrived in NYC she has established a theatre company, Just More Theatre Inc.; directed and starred in the musical comedy Helen of Troy, NY; starred and directed in Women of History Fashion Show, played a lead in the musical comedy, Bound to Rise, at Medicine Show Theatre and performed multiple roles in The Cheating Flea by Jan Brzechwa with the Polish Theatre Institute for kids throughout New York, New Jersey, Pennsylvania and Connecticut. Many of her qualities such as her strong work ethic, love of theatre and comedy are similar to Dietrich's. Justyna loves both acting and directing again like Marlene Dietrich who by all accounts took over some of the directing tasks of Stage Fright from the notoriously standoffish Alfred Hitchcock.
Oliver Conant (co-writer and director) serves as a director of Dietrich Rides Again and has also co-written this musical. He is a NYC based director, playwright and an actor with Broadway and Hollywood credits, whose playlet Sup Bro, Where You At was performed at Dixon Place in October of 2016. He serves as a dramaturgical consultant and is on the board of directors for Medicine Show Theatre and has worked with a variety of other companies in the non-commercial theatre scene in New York including Queen Shakespeare, Nicu's Spoon, Judith Shakespeare and Frog and Peach. As a youngster, he was introduced to Greta Garbo by Salka Viertel and has always felt somehow connected to the extraordinary congregation of talent in the emigre community in Hollywood.
Friday, January 12, 2018 at 10pm
General Admission
$15 in advance
$18 at the door
Stu./Sen./idNYC
$12
Estimated Runtime
65 minutes
share £
Credits
Written & Directed by
Oliver Conant
Written & Performed by
Justyna Kostek
Musical Direction & Arrangements
George Cork Maul
Choreography & Movement Consultant
Madeline Jaye
Lighting
Alex Moore
Costumes
Derek Lockwood
Makeup & Hair
John Cencio Burgos
Stage Manager
Glen Kinnaird
Photo credit:
John Cencio Burgos
Links