Decadent Acts
Ashley Marinaccio & Co-Op Theatre East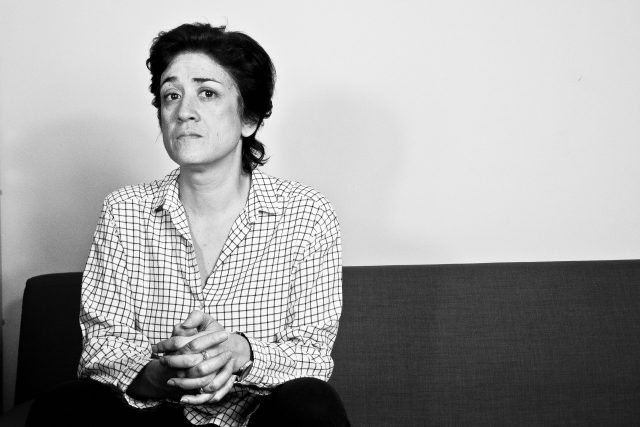 About This Show
Set in late 1980s New York City, Decadent Acts chronicles the story of a lesbian couple struggling against legislated discrimination. When television personality Farah White falls fatally ill, her partner, professor Jolene Shatila, along with their daughter Nicole, are faced with unexpected challenges that will change their lives forever. From child custody laws, to hospital visitation rights, Decadent Acts spotlights the harsh reality of discriminatory regulations against same-sex partners, plumbing emotional and political depths with grace and searing honesty.
about the artist
Ashley "Ash" Marinaccio is a theatre artist and scholar who creates work to challenge the status quo. She is dedicated to documenting the socio-political issues that define our times. As a director and playwright, her work has been seen off-Broadway, at the White House, United Nations, TED conferences across the United States, Europe and Asia. Currently, Ash is working on her Ph.D. in the Department of Theatre and Performance at the CUNY Graduate Center, where she is focusing on theatre and war. Ash is the founding Artistic Director of the theatre company and United Nations NGO Girl Be Heard, where she received numerous accolades, including LPTW's Lucille Lortel Women's Visionary Award. She is a co-founder/director of Co-Op Theatre East, member of the Civilians Field Research Team, and creator of the B.F.A. In…, a new web series.  Ash is on faculty at Pace University, and Hunter College beginning in fall, 2017. Learn more: ashley-marinaccio.com.
Co-Op Theatre East believes in the power of art to foster a dialogue for social change. We provide an entertaining performance forum in which to ask evocative, challenging questions of artists and audiences on our way to creating collaborative answers. COTE produces theatre that deals with the questions of today, the situations we find ourselves immersed in as New Yorkers, Americans, and world citizens at this critical moment in time. We view the act of creating theatre as a political act and recognize the unique role that theatre has played in raising consciousness throughout history. The world is shaped by narrative. Stories unite, divide, enlighten and entertain. COTE produces theatre that explicates the world we live in. Learn more at: www.cooptheatreeast.org.
Friday, May 26 at 7:30pm
General Admission
$15 in advance
$18 at the door
Stu./Sen./idNYC
$12
Estimated Runtime
80 minutes
share £
Credits
Written and Directed by
Ashley Marinaccio
Assistant Directed by
Vinny Eden Ortega
Produced by
Co-Op Theatre East
Wardrobe Design by
Laura Wynne
Featuring:
Anna Savant, Kathryn Neville Brown*, Ciela Elliot, Janet Werther, Michael Callahan, Ryan Victor Pierce*, Matthew Champagne, Virginia Thomas*, Bradley Levine, Jennie Youssef and Adiagha Faizah
* appearing courtesy of Actors Equity Association
Stage Directions:
Annalise Wedemeyer
Links