Crossing Boundaries
Featuring Elise Knudson & Minna Karttunen, Emily Berry, Carol Mendes, Parijat Desa and Rachel Oliver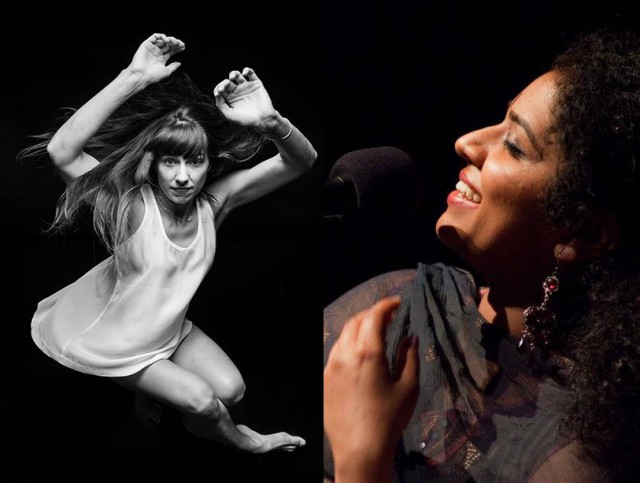 About This Show
New work by choreographers who cross cultural, geographic & disciplinary boundaries. Curated by Marcia Monroe.
About the Artists
Parijat Desai is an India-born, U.S.-raised choreographer who strives to cross boundaries of culture, identity, and nation through the performing body. She draws on contemporary dance, bharata natyam, and other forms to create hybrid vocabularies the NYT called a "seamless blending of the new and old." With a 2013–14 Fulbright-Nehru Grant to India, Parijat explored choreography at Indo-Islamic architectural sites in Delhi, and developed short film The Palace Is Dreaming featuring local dancers (coming soon). For JustLikeThat Parijat collaborates with versatile Carnatic vocalist Roopa Mahadevan, director of Navatman Music Collective and lead singer on Grammy-winning album Calling All Dawns. parijatdesai.org |roopamahadevan.com
Minna Karttunen is a dancer/performer based in Helsinki, Finland. She has an MA degree in dance from the Theatre Academy of the University of the Arts in Helsinki. In addition to performing and teaching dance in her home city, she has also performed with MACHiNENOiSY in Vancouver, Canada. Now Minna has gained a wide range of experience in different moving techniques and contact improvisation/improvisation based working in dance. She has taken classes and workshops in Deltebre, Berlin, New York and Vancouver BC.
Elise Knudson is a New York based dance artist and educator. Her interest in being where ideas and actions intersect has led to explorations of critical theory via dance and visa versa. She holds an MFA in dance from Hollins University and is supremely grateful for the privilege of dancing for Risa Jaroslow, Koosil-ja/DanceKumiko, Luke Gutgsell, Kiori Kawai/Purring Tiger, among others.  Elise teaches and facilitates Contact Improvisation through Movement Research and at Manhattanville College.
Rachel Oliver is a mountain woman from Montana, and a bit of a crazy cat lady. Rachel recently completed an MFA as an Arts and Sciences Fellow at CU-Boulder. Her choreographic work has been presented in many settings, including being commissioned by Longmont Dance Theatre and West Virginia Dance Company, selected for performance at Performática in Puebla, México, and presented at the ATLAS Institute, the Philly Live Arts & Fringe, the Jack and Triskelion Arts.  Currently based in NYC, Rachel is a co-founder of lonely collective, currently working with Carte Blanche Performance, Avodah Dance, and producing her own work.
Tuesday, Dec. 8 at 7:30pm
General Admission
$12 in advance
$15 at the door
Students / Seniors
$10
Estimated Runtime
60 minutes
share £
Credits
Rachel Oliver Photo Credit (left)
Buffalo James Photography
Right Image
Parijat Desai's singer Roopa Mahadevan Pictured
Links