Crossing Boundaries
Featuring Tal Halevi, Titilayo Majoyeogbe, Rourou Ye, Rachel Thorne Germond, Cynthia Berkshire. Curated by Marcia Monroe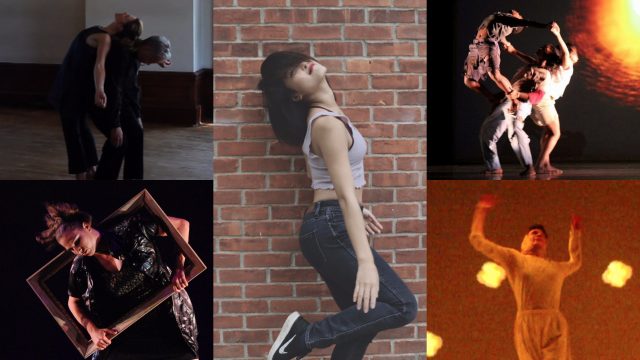 About This Show
New work by choreographers who cross cultural, geographic & disciplinary boundaries.
Curated by Marcia Monroe.
Featuring Tal Halevi, Titilayo Majoyeogbe, Rourou Ye, Rachel Thorne Germond, Cynthia Berkshire
About the Artists
TAL HALEVI is a choreographer, dancer, and teacher based in New York City. Born and raised in Israel, she was a member of the Rina Schenfeld Dance Theater In Tel Aviv and performed with choreographer Nimrod Freed and with the New York Theater Ballet. Her choreography, exploring the interplay of physical embodiment, shifting states of consciousness, and their expression through movement, has been presented in Europe, Israel, and the United States. In New York, her work has been shown at Lincoln Center, Dance Theatre Workshop's Fresh Tracks, Dixon Place, the Dance Now Festival, Movement Research at Judson Church, Joyce Soho, and the 92nd Street Y.
Established by artistic director and choreographer, Titilayo Majoyeogbe, T.MAJ Dance Company is a collective of dance artists that deeply debates about sociopolitical issues through their aesthetic in movement. Recently, they were a 2017 choreographic resident for Nimbus Dance Company, along with receiving the opportunity to perform their choreography "absent agency" in their studio formally. Prior to this engagement, they have presented their dance works at Movement Research Judson Church (2016), Brooklyn Arts Exchange NY (2016) and Green Space, Queen NY (2017) just to name a few. Currently, as a DanceNJ member, T.MAJ Dance aims to research, develop, present and create an evocative multidisciplinary body of work.
Rourou Ye is a NYC based female choreographer, dancer and artist from Shanghai. She graduated from Sarah Lawrence College in 2017, receiving her MFA degree in Dance. The most significant qualities of her dances are the usage of theatrical and legible elements, which explores human emotions and behaviors. Furthermore, she utilizes multi-media in her choreography in order to expand the possibilities of expression in performance. Dance film is another medium that represent her works. Her recent choreography focuses on the subjects of female sexuality and individual identity. They are often described as emotional, whimsical, mysterious, grotesque, provocative, controversial and humorous.
Rachel Thorne Germond is a Brooklyn – based performer, dancer, teacher, choreographer, and visual artist. Her multidisciplinary performances incorporate dance, video, and photography.  Her dance training includes intensive study of Klein Technique with Barbara Mahler and with such notable teachers as Mary Anthony, Anna Sokolow, Merce Cunningham, Pedro Alejandro, Tere O'Connor, and Nancy Topf.  Find out more at www.rtgdance.com.
Interested in combining elements of reality with the haze and twists of the inner world, Cynthia Berkshire brings a background in dance, theatre and visual design to her projects. She came to New York to perform with Kei Takei, has an MA in dance from George Washington University and has worked as a graphic designer at various ad agencies. Cynthia has collaborated as movement coach on theatre productions such as the 'Strindberg Festival', created short digital films, and performed in projects by Sally Silvers, Noemie LaFrance and others. Currently she studies ballet with Zvi Gotheiner.
Tuesday, June 27 at 7:30pm
General Admission
$15 in advance
$18 at the door
Students/Seniors/idNYC
$12
Estimated Runtime
60 minutes
share £