Crossing Boundaries
Featuring Albert Delgado & Diego Cristian Saldaña, Ramona Sekulović, Martha Lavery, Malcolm Betts. Curated by Marcia Monroe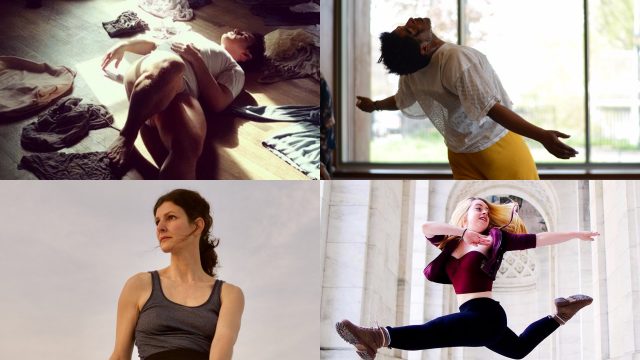 About This Show
New work by choreographers who cross cultural, geographic & disciplinary boundaries.
Curated by Marcia Monroe.
Featuring Albert Delgado & Diego Cristian Saldaña, Ramona Sekulović, Martha Lavery, Malcolm Betts
About the Artists
Malcolm-x Betts is a New York based curator, visual and movement artist, who believes that art is a transformative vehicle to bring people and communities together. Betts is working on his debut showcase titled, Black Bodies Down: A Depiction of Black and Brown Masculinity at La MaMa Umbria International in Italy. – malcolmxbetts.com
Born and raised in Germany, Ramona Sekulovic is a performing artist based in New York. Trained as a dancer as well as visual anthropologist, she currently strives to incorporate the experience and perception of one's own body as well as its individual physical aesthetics into choreographic practice. In New York Ramona was presented by Dixon Place, Joyce Soho, The New York Fringe Festival, The Downtown Arts Festival, and the Dumbo Arts Festival, and has shown her work at the Limon Institute, WAX, University Settlement, Movement Research, and DTW among other venues in New York.
Albert Delgado (Adel Hernandez) is a dance artist and scholar in performance studies. His work suggests performative affects of Latinidad, memory, and queer futurosity, using dance as praxis. Adel has performed and set dance works at Dixon Place Theater and Gibney Dance Center in New York City, New Mexico University for the American College Dance Festival, and in San Antonio, Texas at Jumpstart Theater and Northwest Vista College. He has led workshops and teaches dance in both Texas and New York City. Adel has also performed with Sokolow Theatre/Dance Ensemble and SpareWorks.dance.
Diego Cristian Saldaña Master in Performance Studies (NYU). Bachelor in Theater (FFyL, UNAM) and Music (ENM, UNAM). Multidisciplinary artist based on Mexico City working around the relation between music/sound and theater/presence. His theatrical pieces as a playwright have been performed in the most important festivals in Mexico. He has recorded three albums.  His work with music and theater has been performed in the Museum of Contemporary Art (MUAC, México). His piece 'Disenso' closed the New York Latinoamerican Poetry Festival 2016, and his video clip "El Objeto Sujeto" was selected for the Bobst Film Festival, NY.
Martha Lavery earned a BA in Dance from Hofstra University in 2014. Since then, she has performed work by several modern, jazz, and hip-hop choreographers around Manhattan, Brooklyn, Queens, the Bronx, and New Jersey. Her original modern and hip-hop choreography has been selected for various curated showings as well. She currently dances and choreographs for ASHA Dance Company and DanceWorks New York City, and shows her freelance choreography either under her name or as Vector Dance Company.
Tuesday, May 30 at 7:30pm
General Admission
$15 in advance
$18 at the door
Students/Seniors/idNYC
$12
Estimated Runtime
60 minutes
share £