Crossing Boundaries
Featuring Deirdre Towers, Barbara Mahler, Maho Ogawa, Valerie Green/DanceEntropy, and Rachel Bunting/The Humans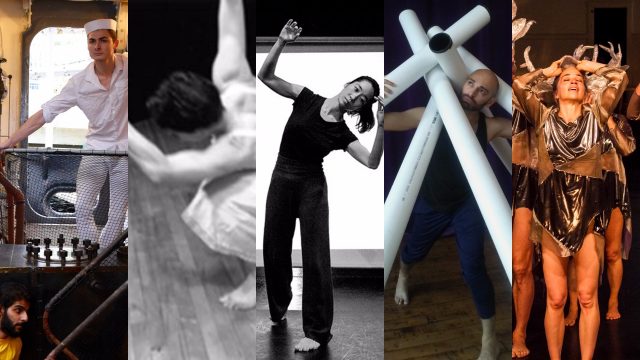 About This Show
New work by choreographers who cross cultural, geographic & disciplinary boundaries.
Curated by Marcia Monroe.
Featuring Deirdre Towers, Barbara Mahler, Maho Ogawa, Valerie Green/DanceEntropy, and Rachel Bunting/The Humans
About the Artists
Deirdre Towers showed her choreography twice in Soaking Wet, and has performed with NY Lyric Opera, Syracuse Stage, Table Top Opera, and at Westport Library, Weil Recital Hall, Danspace, Symphony Space/Leonard Nimoy Thalia, The Plaza, Rainbow Room,13th St. Theatre. BELL 8 was exhibited at Waterfront Museum and the Lilac Preservation Project. Her dance films have been in Performance 21, Big Screen Plaza, Cinedans, & Danca Em Foco. She produced LA CHANA (2016) and the Dance on Camera Festival (1994-2012). Maria Benitez' Institute for Spanish Arts co-produced her DANCING WITH BULLS, shown in NY & Santa Fe.
Barbara Mahler is a long-standing and active member of the New York City dance community as a choreographer, performer,  a movement educator and body worker. Teaching for above 30 years,  she is a major contributor in the development and outreach of Klein Technique.  Barbara was co- director of the Susan Klein School of Dance 1982-2003.  She has a BA in dance from Hunter College under the Tutelage of Dorothy Vislocky and an MFA from UWM – Milwaukee.  Check out the article in Dance Teacher Magazine, February 2018. www.barbaramahler.net
Maho Ogawa is a New York based movement artist and Pilates Practitioner originally from Japan. With background of ballet, traditional Japanese dance, and Butoh, she relocated to the U.S. in 2011. Her works have been shown in Seoul, Tokyo and at various NY venues including The CURRENT SESSIONS, Spring Movement and PSOH at CPR, Chez Bushwick, Domestic Performance Agency, and New York University Grey Gallery. Ogawa is a recipient of a Suginami grant (Japan) and a Tokyo Metropolitan Government grant (Japan). As a performer she has worked for  Athena Kokoronis and Mina Nishimura.  Instagram: https://www.instagram.com/suisomaho/
Valerie Green has been an active dancer, choreographer and teacher in the New York City dance community since 1995. She created her own company, Dance Entropy in 1998, adding a permanent company home in 2005 called Green Space. To date Ms. Green has created 29 dances and 8 evening length works. Her choreography has been seen throughout NYC and has also toured to various venues throughout the US. Internationally she has taught and performed in Azerbaijan, Armenia, Georgia, Austria, France, Italy, Greece, Russia, India, Serbia, Bosnia, Slovenia, Croatia, Albania, Slovenia, Guatemala, Cuba and Canada. Please visit www.DanceEntropy.org
Rachel Bunting is an artist living in Chicago, Illinois. She started making dance as "The Humans" in 2002. Her work uses objects, masks, video, and voice to create visual worlds and poetic happenings. "The Humans" have been seen in Chicago at the MCA, The Dance Center of Columbia College, Defibrillator, Mana Contemporary, Links Hall, Hamlin Park Theater, and many other site-specific spaces. For the last several years, Rachel has been conjuring a work that remixes stories and images from her late father's life. She is also a published writer and teaches in the Theater Department at Columbia College.
Tuesday, November 28, 2017 at 7:30pm
General Admission
$15 in advance
$18 at the door
Students/Seniors/idNYC
$12
Estimated Runtime
60 minutes
share £