Crossing Boundaries
Curated by Marcia Monroe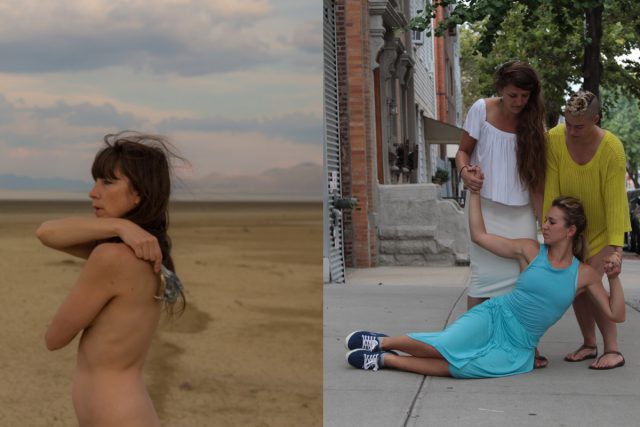 About This Show
New work by choreographers who cross cultural, geographic & disciplinary boundaries.
Curated by Marcia Monroe.
Featuring Sandra Kramerova, Mare Hieronimus, Vanessa Vargas + Nela Cote and Selma Trevino
About the Artists
Maré Hieronimus is a Brooklyn-based interdisciplinary dance artist, performer and teacher who works across media, including in video, photography, voice, as well as sound-scoring, all towards the creation of her body-based work. Drawing from her interests in memory, mythology, sensory perception, embodiment, and the interface between body and landscape, she creates ritually based performance using the shifting field of the body as point of origin. Her work has been presented widely in NYC, regionally, and beyond. She is a 2016 Playa Summer Lake Fellow (OR), a 2015 Djerassi Resident Artist (CA), and a 2014/2015 E|MERGE Resident Artist (MA). She is currently dance faculty at LIU/Brooklyn.
Sandra Kramerova is Slovak born and NYC crafted dance artist passionate about urgent, rigorous corporeal expression and visceral conceptual experience. A recent graduate of Sarah Lawrence College with MFA in Dance (2016), immersed in practices of contemporary dance, physical theatre, improvisation and somatics. Sandra received her BFA at University of Performing Arts in Bratislava (2009) and participated in Kibbutz Contemporary Dance Company's International Dance Program in Israel (2010). Sandra performed and co-choreographed works presented at BAM Fisher and Danspace Project (X-Stream and Eco-Centric) as well as Center for Performance Research (outSKIRTS), John Ryan Theatre (Quatro) and The Secret Theatre (Aquarius).
Vanessa Vargas is a Venezuelan, Brooklyn-based performer, teacher, dancer. She started her career at the Escuela de Danza de Caracas. Afterwards she developed her practice as a member of the company, while invited to several independent projects. Currently living in New York, performing with US-based companies and artists (Rastro Dance Company, Kerry Cox, Mariangela López, Danielle Russo) at several dance venues (24 hour project, Chez Bushwick, Dumbo Dance Festival, Gibney Dance Center). Worked as a performer at MoMa in different exhibitions (Lygia Clark, James Lee Byars, David Lamelas, Yoko Ono), while developing her teaching career and projects on collaborative dance practices and her scholarly research on movement.

Nela Cote is a Venezuelan, Spain-based audiovisual journalist, dancer, performer and writer. Creator of RemotoLab, where she works as a researcher, director and editor of short films and documentaries for independent projects, and research process based on performance, body and video.

Selma Treviño is a performer/choreographer/director and co-founder of Corporeal Arts Incorporated.  Selma develops works based on the Corporeal Mime technique in the field of dance and theater as well as for academic research in the field of Performance Studies. Selma teaches at her own Pilates and Yoga studio in Maspeth which is also home for her artistic company Corporeal Arts Incorporated. She had her work performed at: Baryshnikov Arts Center, Lincon Center, Dixon Place, HERE, Center for Performance Research – CPR in New York and in venues in California, Brazil, France and Canada.
Tuesday, October 25 at 7:30pm

General Admission
$15 in advance
$18 at the door
Students/Seniors/idNYC
$12
Estimated Runtime
60 minutes
share £
Links