Crossing Boundaries
Featuring Ardella Bang, Parijat Desai, B.U.G.S. & Selma Treviño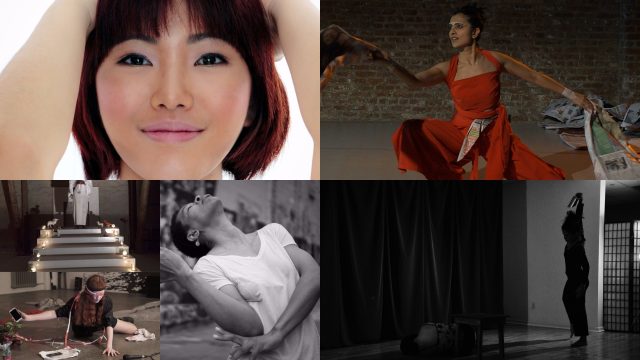 About This Show
New work by choreographers who cross cultural, geographic & disciplinary boundaries.
Curated by Marcia Monroe.
Featuring Ardella Bang, Parijat Desai, B.U.G.S. & Selma Treviño
About the Artists
Ardella Bang began her professional dance career in Singapore performing with the T.H.E Second Company and John Mead Dance Company. Upon moving to New York City graduating on Dean's list at SUNY Purchase College of the Arts, Ardella has had the pleasure of working with a diverse range of choreographers including Bryan Strimpel, Shannon Gillen, Francesca Harper, Nai-Ni Chen and Edisa Weeks. As a passionate independent dance artist, Ardella has created multi-disciplinary works that has been performed at The Arts House in Singapore and The Actors Fund Arts Center and Dixon Place in NYC. On top of dancing, Ardella has acquired certifications in Pilates, Personal Training, Power Plate and the TRX suspension training method. Ardella enjoys bringing to people the immense joy and freedom of movement.
Parijat Desai is a New York–based dancer/choreographer and a Movement Research Artist-in-Residence, India-born, U.S.-raised. She is working on multiple projects includingOOF (opposite of fear), a solo movement practice, and JustLikeThat, an ensemble dance theatre work with live music, exploring news language and state power. She collaborates with various musicians around town, including Brooklyn Raga Massive. Parijat also has a social-practice project called Dance In The Round offering instruction on circle dances from Gujarat, India. See what's up with her teaching and shows at FB/ParijatDesaiDanceCompany.
B.U.G.S. aka Bitches Under Gross Surveillance is dancer/performer mayfield brooks and artist/dancer Alexa Wilson. mayfield and Alexa met two years ago in Germany and haven't physically seen each other since, but decided to engage in a remote yet intimate dance collaboration across three continents that interrogates the apparatus of surveillance and it's affect on our bodies and breath. mayfield is currently a 2017 Artist In Residence at Movement Research NYC and Alexa is a New Zealand artist currently based in Berlin and has presented performance and video works in NZ, Europe, Australia, China and NYC.
Selma Treviño is a performer/choreographer/director and co-founder of Corporeal Arts Incorporated. Selma develops works based on the Corporeal Mime technique in the field of dance and theater as well as for academic research in the field of Performance Studies. Selma teaches at her own Pilates and Yoga studio in Maspeth which is also home for her artistic company Corporeal Arts Incorporated. In New York she had her work performed at: Baryshnikov Arts Center, Lincon Center, Dixon Place, HERE, Center for Performance Research – CPR. Her work was also performed in venues in California, Brazil, France and Canada.
Tuesday, October 24, 2017 at 7:30pm
General Admission
$15 in advance
$18 at the door
Students/Seniors/idNYC
$12
Estimated Runtime
60 minutes
share £