Deb Margolin's Fun-raising Performance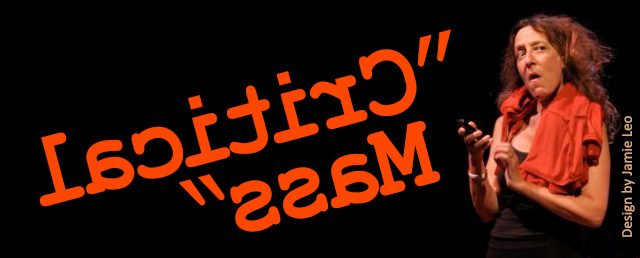 Tuesday, February 27, at 7:30pm 2018
A critic is seated smack in the middle of a series of events he is meant to review, and people mistake each other for things they are not. A wild, vaudevillian comedy that investigates the critical impulse, from its most elegant to its most petty.
"An artful and insightful work about our compulsion to inflict opinions on one another."
 – New York Times
CAST
CAST BIOS
Deb Margolin is a playwright, actor, and founding member of Split Britches Theater Company. She is the author of numerous plays, including Imagining Madoff, Turquoise, and Bringing the Fishermen Home, as well as 10 solo performance plays which she has toured throughout the US, the most recent of which is 8 STOPS, a comedy concerning the grief of endless compassion! 8 STOPS takes a long, humorous, tender look at motherhood, the suburbs, the fear of death, and the inheritability of ideas.  Deb was honored with an OBIE award for Sustained Excellence of Performance, the Kesselring Playwright Prize for her play Three Seconds in the Key, the 2008 Helen Merrill Distinguished Playwright Award and the Richard H. Broadhead Prize for teaching excellence at Yale University, where she is Associate Professor (adj.) in the undergraduate Theater Studies Program. Commissions include the NY Public Theater, Actors Theater of Louisville, PS122, The Jewish Museum of New York, and Dixon Place.
Jamie Leo directed the original production of 'Critical Mass'. His 'Long Day in A Bad Shirt', with real-time projected face-mapped animations, was recently performed at Dixon Place. He's written seven produced plays and one musical; an Albee Fellowship; collaborations with Lisa Kron, Robert Black, and Theodora Skipitares. Recent art-on-metal works in two NYC exhibitions and Miami Art Basel. His new 'In What You Call The Dark', about sight and blindness, will be read at NYTW March 19. This spring, look for his and Paul Leschen's new musical ''68', about the Chicago 1968 Democratic Convention riots. @jleonyc

Salley May has been a downtown performance artist since 1987, with many shows originating at Dixon Place.  She curates P.S.122's Avant-Garde-Arama series, does theater workshops with mentally ill populations, and was a longstanding member of Jennifer Miller's Circus Amok.  She runs a monthly Tom Murrin style full moon show with partner Tony Stinkmetal at HOWL Happening Gallery, and she has formed the visual art performance company MAYHEM with her sister Nancy May Perry.
Catherine Nance has worked as a photojournalist/and photo editor for various media outlets including The New York Daily News, The New York Post, New York Times, DNA info and Polaris News Images.  Catherine performed in several downtown theaters in the 1990's including Dixon Place, PS122 in Deb Margolin's Critical Mass, and at Lama in Ridge Street Theater's Everyday Newt Berman and the Trilogy of Life, and The Jungle Movie. Presently she is working on a full length play, and works as an Event Photographer.
Tom X. Chao has written, directed, and performed theatrical shows in New York City and Canada. After studying performance composition with Deb Margolin in NYU's Gallatin School of Individualized Study, he began his NYC performance career at Dixon Place, where his show, The Negative Energy Field, had a featured run in June 1998. His later works include Can't Get Started and Cats Can See the Devil. In December 2009, he returned to Dixon Place with Callous Cad, later revived at HERE Arts Center. Most recently, he has been developing a new one-act play, Hot for Feminist Theory Professor, with Kim Katzberg. Tom is very pleased to reunite with Deb for this staged reading of Critical Mass, and would like to thank her, Ellie Covan, and all at Dixon Place for their support.tomxchao.com
Kevin Seal was born in Seattle, and for him, that explains why he lives there now. In the 1980s he was on MTV, but so was Jim Turner. For Kevin Seal, Dixon Place will always be next to a Chinese restaurant supply store, and right next to his heart. He has appeared in three sexual harassment training videos.
Jim Turner was a Series Regular for 7 years on HBO's hit show ARLI$$, playing Kirby Carlisle, a professional quarterback with a gambling/girls/booze and self-esteem problem. He was a series Regular on CBS' If Not For You, and has Guest Starred on Big Bang Theory, Castle, Franklin & Bash, Happy Endings, Party Down, Boston Legal, Young & The Restless Dharma & Greg, That 70's Show, Larry Sanders, Rugrats, and Roseanne. For 8 years he co-hosted the CNBC show about diabetes, dLife. Film credits include Bewitched, Jobs, Golf In The Kingdom, Kicking & Screaming, Meet Dave, The Ref, Lost Boys, St. Elmo's Fire, Shelf Life, The Right Stuff, Joe's Apartment and 364 Girls a Year. In 1988, he ran for President on MTV as Randee of the Redwoods. Theater credits include Girly Magazine Party, The Return of Pinnochio, The Brain That Wouldn't Go Away, 2 Headed Dog, Duck's Breath Mystery Theater and many oddball characters developed, and performed first at Dixon Place.
Eric Weiner TV writer and producer, Eric co-created and produced several of preschool television's most successful series, including LITTLE EINSTEINS for The Disney Channel and Nickelodeon's smash hit DORA THE EXPLORER. Now an acclaimed six-time Emmy Award nominee, WEINER has happily returned to acting, playwriting, and the theater. He has been studying acting with Austin Pendleton and James Calleri, among others, and recently played a role in IRON CRADLE, a short film featuring the amazing Deborah Margolin. He lives in New York City with his wife, author Natalie Standiford, his youngest son Ezra, and two cats, Lucy and Yoda.
Rae C Wright (OBIE-Award w/NYStreet Theatre Caravan) developed (gratefully) all her solo work @Dixon Place; She's Just Away!, Animal Instincts!, My Mad Brother and now Taxi Take Me!. Ms. Wright is: "gloriously eccentric" NYTimes '17; the French Ambassador on Madame Secretary; a racist in The ForeverTree @Bentonville Film Fest; US of Hannah Pitt in Angels in America @Signature Theatre; in Taylor Mac's The Lily's Revenge; in numberless obscure & remarkable indies as lovers, drinkers, shrinks, shopkeeps, a defender-of-zombies & a cougar/murderess: Borders (Joe Tripician), Joe's Apartment; Countertransference; A Soldier's Heart… in Mallory Catlett's (OBIE/Bessie) homage to Uncle Vanya Maboo@PS122 May/June 2018. www.raecwright.com

Tuesday, February 27 at 7:30pm 2018
General Admission
$42
'Critic's' HOT SEAT
(reserved seat, open bar with snack pack)
$72
Estimated Runtime
60 minutes
share £
Credits
Featuring
Jim Turner
Kevin Seal
Rae C. Wright
Catherine Nance
Salley May
Tom X. Chao
Deb Margolin
Director:
Jamie Leo
Photo credit:
Anthony Rhoades (for Tom X. Chao), Anousha Hutton (for Jim Turner). Dante Oliva Smith (Deb Margolin)