Cosmicomics
The New Stage Theatre Company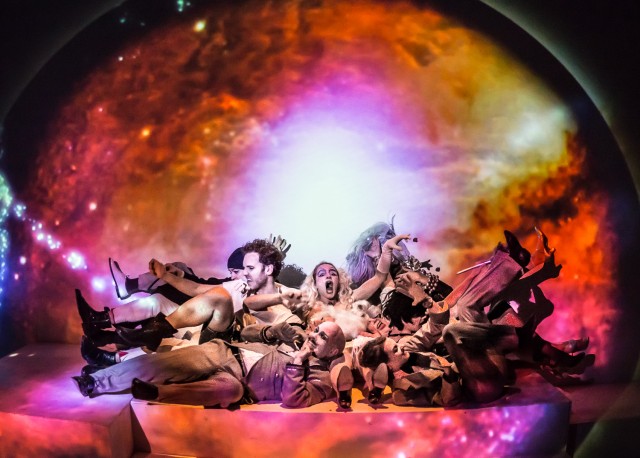 About This Show
Dixon Place & The New Stage Theatre Company present the world premiere of Cosmicomics, an original multimedia theatre piece inspired by chapters of Italo Calvino's matchless novel of the same name. Created by Ildiko Nemeth, Cosmicomics comprises a series of vignettes involving our narrator, Qfwfq, as he evolves across the history of the universe. From his innocent childhood before the Big Bang, when everything he loved was packed into a single point, we continue on to his love affairs and nostalgic middle age. Along the way we witness wondrous things: the birth of light and color, the identity crises of creatures that move from sea to land, the inner lives of mollusks, and more. Against a cosmic backdrop we recognize fundamentally human experiences in the tales: obsession, neurosis, love and transformation.
DP's Katy Einerson talks to Idilko Nemeth about Cosmicosmics for Culturebot! Read here.
Rochelle Denton of Nytheaternow.com reviews Cosmicomics! Read here.
Aurin Squire's review for New York Theatre Review: Read here.
 Cosmicomics based on the novel by Italo Calvino. Created, Directed & Designed by Ildiko Nemeth. Photos by Lee Wexler/ImagesforInnovation.org
About the Director
Ildiko Nemeth is the Founder and Artistic Director of The New Stage Theatre Company (NSTC) and has served as the director on all of the company's productions and as the creator of all of their premieres.
With her company in Hungary, Nemeth garnered numerous awards, such as the Guardian Critics' Choice Award at the Edinburgh Fringe Festival and the Best Performance Award at the International Gombrowicz Festival in Poland. A veteran of Eastern European experimental theatre, her desire to bring this form of theatrical expression to the U.S. drove her to move to New York City in 1998. She graduated with a Master's Degree from the Actor's Studio Drama School in 2002 and started NSTC that same year.
Nemeth presents to contemporary American audiences original and adapted plays that explore the complexities and universality of human experience. Drawing from the traditions of Eastern European theatre and a diverse international ensemble, Nemeth combines all artistic elements of production to create total art work that overcomes limitations of language, customs, and theatrical convention.
NSTC's productions conceived and directed by Nemeth have been nominated for NY Innovative Theatre Awards in five categories, including Outstanding Performance Art Production for Some Historic/Some Hysteric. She has cultivated a distinctive style that is particular to her aesthetic framework, the choice of plays, themes and topics, which are informed by a range of cultural influences but particularly by European history, literature and philosophical thought.
Irene Backalenick of Backstage praised Nemeth as "a highly creative director, who puts her own stamp on the piece." Time Out New York called The New Stage Theatre Company's production of Mapping Möbius an "imaginative multimedia portrait" and NY Theatre Wire applauded the play as a "beautifully written performance piece…Ildiko Nemeth has once again turned science into highly entertaining and dramatic theater." Time Out called NSTC's production of Oh, Those Beautiful Weimar Girls! a "stylishly morbid dance-theater piece" and NYTheatre.com deemed it "one terrific show" and a "highly watchable night of indulgence." Backstage raved about NSTC's production of Some Historic/Some Hysteric, calling it "dazzling, brilliant, searing" and TimeOut NY described it as "visually striking."
The New York Innovative Theatre Awards identified the company's 10th anniversary as one of the top Off-Off Broadway stories, commenting, "For a decade Ildiko Nemeth and the New Stage Theatre Company have been bringing their unique brand of sophisticated, inspired and startling stage craft to NYC stages."
Funders
This program is made possible by the New York State Council on the Arts with the support of Governor Andrew Cuomo and the New York State Legislature.
It is also supported, in part, by public funds from the New York City Department of Cultural Affairs in partnership with the City Council.
Private funds provided by The Peg Santvoord Foundation & The Jerome Foundation.
Production design support provided by The Edith Lutyens and Norman Bel Geddes Foundation.
This work was created in part through Field Time, a rehearsal space program of The Field supported by the Lambent Foundation.
Fridays & Saturdays,
March 28 & 29 at 7:00pm
April 4, 5, 11, 12, 18, & 19 at 7:00pm
Tickets are:
$16 in advance
$18 at the door
$12 students & seniors
Estimated Runtime
80 minutes
share £
Credits
Created, Directed and Designed by
Ildiko Nemeth
Lighting
Federico Restrepo
Original Music
Yukio Tsuji
Projection
Laia Cabrera & Isabelle Duverger
Costume
Egle Paulauskaite
with Lance Cruce, Kaylin Lee Clinton, Chris Tanner, Geraldine Dulex, Denice Kondik, Florencia Minniti, Jeanne Lauren Smith, Markus Hirnigel*, Michael Cuomo*, Dodye Bass*, Beau Mallard & Catherine Correa
*These Actors are appearing courtesy of Actors' Equity Association
Cosmicomics based on the novel by Italo Calvino. Created, Directed & Designed by Ildiko Nemeth.
Photos by Lee Wexler / ImagesforInnovation.org
Links