Conkrete Jungle Season 3
Régine Bellinger & Marcel March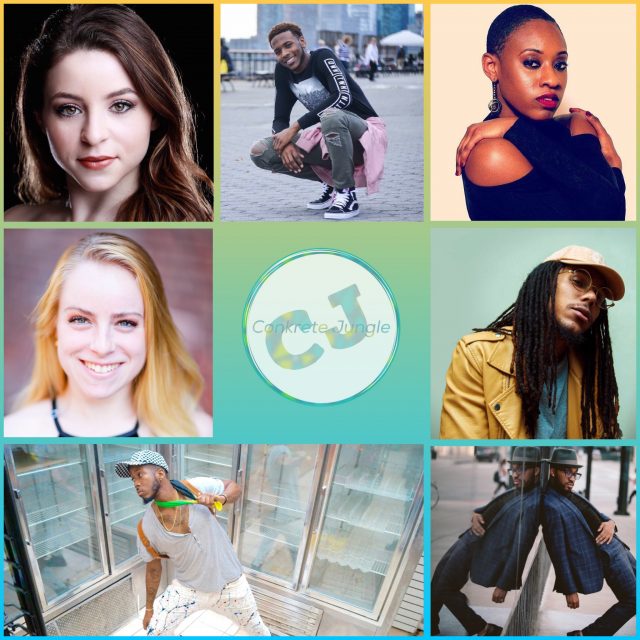 About This Show
Conkrete Jungle Productions Inc. is back again with its 3rd Choreographers Showcase. We're bringing to the stage emerging artists in the Tri-state area. This year is a mix of Contemporary, Dancehall, Afro-Modern, Hip-Hop, and Jazz Dance styles. It's a show you won't want to miss.
about the artists
Joelle Anderson, a New Jersey native, is a graduate of The Ailey School, the official school of the Alvin Ailey American Dance Theater. Ms. Anderson recently performed in a production of In The Heights directed by Luis Salgado at the Axelrod Theater. Other performance credits include works by Sidra Bell, Darrell Grand Moultrie, Amy Hall, Ray Mercer, Matthew Rushing and Judine Somerville. She is a former recipient of the New Jersey Governor's Award in Arts Education, Excellence in Dance. In addition to performing, she is an instructor and choreographer for Center for Dance Education and Middletown Dance Academy.
Ron Baker is a 23 year old dancer, choreographer & artist from Springfield, Mass. He began his journey in movement at age 11 taking classes and dancing at various performing arts studios in his hometown. His drive for creativity soon turned into choreography and opened a door leading to training, teaching & performance opportunities throughout Massachusetts, The Tri-State Area, Las Vegas and California. In 2015 He became a member of Familiar Faces Dance Company. A collective of dancers and choreographers from different dance homes and backgrounds that bonded together to not only perform but to create visual videos using their passion shared through dance.
Martha Lavery/Vector Dance Company
Dana 'Negesti' is a Brooklyn, New York native. At age fourteen she joined the all-girl dance group Keep Getting Better (KGB). In KGB she trained in West African, hip-hop, step, and contemporary dance. She joined the Williams College West African dance group, Kusika in High School and performed for the New Meanings Percussion Symposium as well as the annual fall and spring shows. Negesti furthered her dance training after being accepted into the Trinity La MaMa program and studying South African traditional dance at the University of Cape Town. In 2014 she joined Brooklyn based traditional West- African dance company, KowTeff, and has continued her dance journey with the company.
Detroit Native, Edgar L. Page began his training through the Detroit Public Schools system, graduating from Cass Technical High School and furthering his studies at the Alvin Ailey School and the Liz Lerman Dance Exchange. Earning a BA in Dance from Western Michigan University, he was a member of the Dayton Contemporary Dance Second Company before joining the Cleo Parker Robinson Dance Ensemble for nearly a decade. With graceful prowess, Page investigates contemporary movement aesthetics while curating emotional landscapes from within the human experience for the stage.
Maleek "Tuggz" Chin was born in Trinidad and raised with a Jamaican background. He started dancing at age 13 and grew a passion for dancehall culture whilst visiting his father in St. Catherine, Jamaica. Tuggz frequented many Dancehall parties growing up and joined a dance group where he not only cultivated his articles but also decided to join the professional level of dance. Tuggz has worked for celebrities such as Wyclef Jean, Rihanna, and DJ Khaled. Tuggz trains aspiring dancers interested in the dancehall style in NYC and internationally. "It's not just that I love dance, I feel like I'm supposed to" – @shen_tuggz
Saturday, January 6, 2018 at 3:30pm & 7pm
Matinee (3:30pm)
$18 in advance, $22 at the door, $15 students / seniors / ID NYC
Evening (7pm)
$20 in advance, $25 at the door, $18 students / seniors / ID NYC
Estimated Runtime
90 minutues
share £
Credits
Featuring/Collaborators
Joelle Anderson, Ron Baker, Jay Holmes, Martha Lavery, Dana 'Negesti', Edgar L. Page and Maleek 'Tuggz' Chin.
Photo credit:
Régine Bellinger
Links