Carousel for Kids!
Hosted by R. Sikoryak & Brian Weaver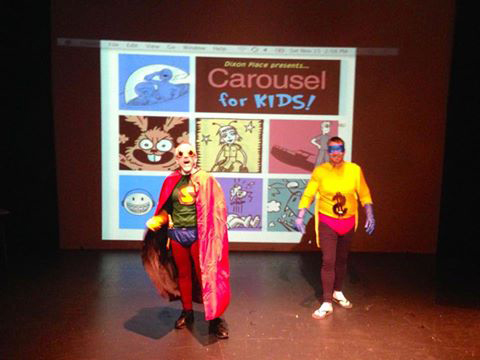 About This Show
Featuring words and pictures by special guest cartoonists, children's book authors, and graphic novelists.  

Megan Brennan
Tom Eaton
Trade Loeffler
George O'Connor
Neil Numberman
R. Sikoryak 

Projections, stories, gags, live drawing…and more!  For kids of all ages.
About the Artist
Megan Brennan is a comic artist and writer from New Jersey. She's published comics on the web like Pencil Pup and School of World, as well as writing the Amazing World of Gumball graphic novels for Boom! Studios.
Tom Eaton is a Brooklyn-based cartoonist and animator, and creator of the Bug Zapper, a comic for kids. Past projects include original animated shorts and music videos for Sufjan Stevens and the Danielson Famile.   bugzappercomics.com
Trade Loeffler is the artist and writer of the all-ages webcomic adventures, The Upside-Down Me, The Sky Kayak, and The Captain's Quest. He is also the illustrator for Nadja Spiegelman's TOON Books' stories, Zig and Wikki in Something Ate My Homework, and Zig and Wikki In The Cow (a 2013 Eisner award nominee for Best Publication for Early Readers).
George O'Connor is an author, illustrator and cartoonist. OLYMPIANS is his ongoing series retelling the classic Greek myths in comics form. In addition to his graphic novel career, O'Connor has published several children's picture books, including the New York Times best-selling Kapow!, Sally and the Some-Thing, and If I Had a Triceratops. He lives in Brooklyn, NY.     http://www.georgeoconnorbooks.com
R. Sikoryak is the author ofMasterpiece Comics(Drawn & Quarterly) & iTunes Terms and Conditions: The Graphic Novel (itunestandc.tumblr.com).  He has drawn for The New Yorker, The Onion, MAD, SpongeBob Comics, Highlights, and The Daily Show with Jon Stewart. His comics have been included in The Best American Comics 2015, The Graphic Canon, Drawn and Quarterly, & Fable Comics. He has hosted Carousel since the '90's.    http://carouselslideshow.com
Neil Numberman is an illustrator and animator from bee-yutiful Brooklyn, where he currently resides and works. He created the Joey Fly, Private Eye graphic novel series for kids with New York Times Bestselling author Aaron Reynolds, and the picture book Do NOT Build a Frankenstein! He's worked for a number of notable clients, including MTV's Liquid Television and ABC's Extreme Home Makeover. Most recently he's done dozens of illustrations for Highlights book series and illustrated the FLIP AND FIN picture book series, written by Timothy Gill. http://neilnumberman.com
Saturday, November 12 at 2pm
General Admission
$15 in advance
$18 at the door
Students / Seniors / ID NYC
$12
Kids
$10
Estimated Runtime
60 minutes
share £