Carousel for Kids!
Hosted by R. Sikoryak & Neil Numberman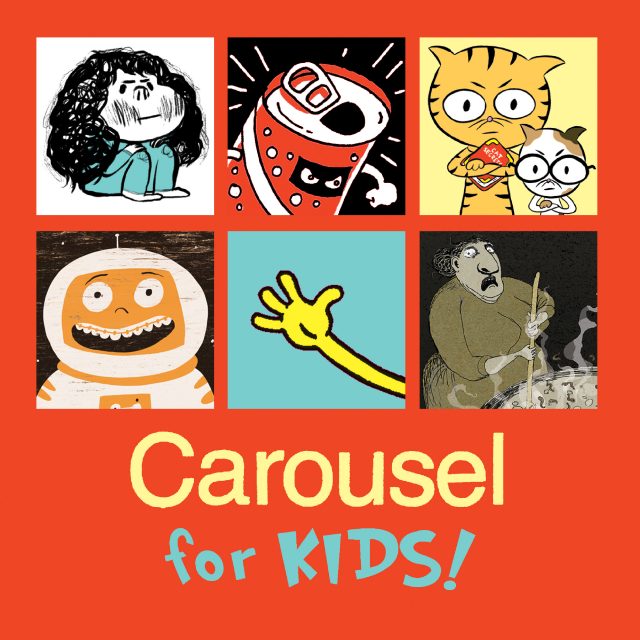 About This Show
Cartoon slide shows drawn and narrated by an array of comic artists, graphic novelists, voice actors, and more. Featuring stories, gags, live drawings, and audience participation! For kids and cartoon-loving adults. Featuring contributions from children's book artists, Nickelodeon magazine, and some of the finest and funniest cartoonists around.  
about the artists
Jef Czekaj is a cartoonist, children's book author and illustrator, and musician who lives and works in Somerville, MA.
He has written and/or illustrated 12 books with titles like Hip and Hop Don't Stop!, Cat Secrets, A Call for a New Alphabet, and Austin, Lost in America.
Deb Lucke is the author/illustrator of the Lunch Witch series which is being made into a movie starring Kate McKinnon.
She also does comic journalism and fine art.
Rebecca Mock is a NYC-based comic book artist and illustrator. She is the artist of the NYT best-selling Compass South, a high-seas adventure graphic novel, as well as its sequel Knife's Edge.
Michael Rex is the writer and illustrator of over 40 books for kids, and the creator of Fangbone! which is now on Netflix.  Please, no bright lights, don't get him wet, and don't feed him after midnight.
Neil Numberman is the totally tubular illustrator of such groovy graphic novels as the Joey Fly, Private Eye series, and writer of the mondo bodacious picture book Do NOT Build a Frankenstein! His most recent picture books, Flip & Fin: We Rule the School, and Flip & Fin: Super Sharks to the Rescue, are, like, in stores now. He also is known for illustrating Highlight's Magazines radically awesome-licious Hidden Pictures! You should totally scope out his work over at neilnumberman.com. FAR OUT!
R. Sikoryak is the author of Masterpiece Comics, Terms and Conditions, and The Unquotable Trump.  He has drawn for The New Yorker, The Onion, MAD, SpongeBob Comics, Highlights, and The Daily Show with Jon Stewart. His comics have been included in The Best American Comics 2015, The Graphic Canon, Drawn and Quarterly, & Fable Comics. He's hosted Carousel for 20 years, with shows around the US and Canada. http://carouselslideshow.com
Saturday, December 2, 2017 at 11:30am
General Admission
$15 in advance
$18 at the door
Stu./Sen./idNYC
$12
Kids
$10
Estimated Runtime
65 minutes
share £
Credits
Featuring/Collaborators
Jef Czekaj
Deb Lucke
Rebecca Mock
Michael Rex
Catherine Porter
Neil & R.S.!
Links