Carousel
Curated & hosted by R. Sikoryak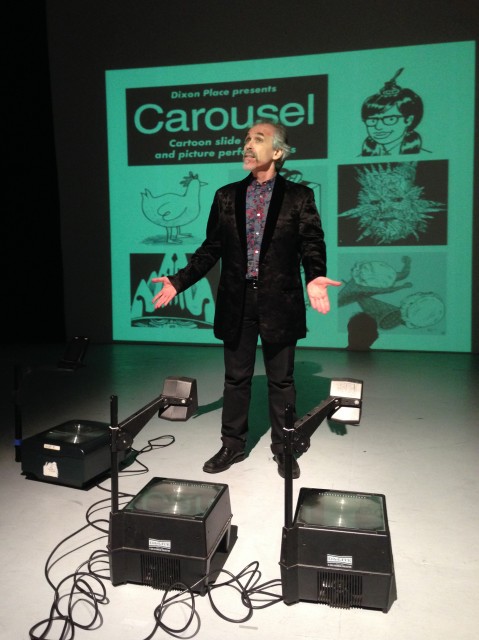 About This Show
Cartoon slide shows & other projected pictures, presented by a wide array of comic strip makers, graphic novelists and visual artists, as well as luminaries from the downtown New York theater & music worlds!
On May 11, Carousel will feature graphic novels, gag cartoons, and several 3D slide shows (including contemporary photos & classic horror comics). 3D glasses provided! Created, performed, and/or read by Katie Fricas, Sara Lautman, Jason Little, Gerald Marks, Joe Pedoto, R.S. & more!

About the Artists
Katie Fricas is a comics artist and library worker in New York City. Her diary comic Blabbermouth is available from Birdcage Bottom Books.
Sara Lautman's drawings and cartoons have been published with The Pitchfork Review, Jezebel, Tablet, The New Yorker, and on her own blog, Macrogroan. Her most recent collection, The Ultimate Laugh, was published by Tinto Press in April. Another new minicomic, Grape Nuts, is now available from Birdcage Bottom Books. She is Comics Editor at Okey Panky, Electric Literature's online magazine of short things.
Jason Little is the author of Borb, a collection of comic strips detailing the brutally slapstick decline of a severely alcoholic homeless man. He is also the author of two color graphic novels (Shutterbug Follies and Motel Art Improvement Service) featuring Bee, his pear-shaped plucky girl character. Jason's work-in-progess is The Vagina, currently being serialized in the French magazineAaarg!
Gerald Marks is celebrating his 50th year as a visual artist and about 42 years of specializing in Stereoscopic 3-D. He may be best known for the three 3-D music videos he directed for the Rolling Stones during their Steel Wheels tour. He has worked with R. Sikoryak & friends on various 3-D comic projects, including at Comic Con. At the MIT Media Lab, he created some of the earliest computer generated Holography. Right now he loves creating and presenting anaglyph 3-D slideshows.
Joe Pedoto is a graphic designer/photographer/3-D enthusiast who has read way too many comic books. He lives a dog's life in CT with Labrador Retrievers, among others.
R. Sikoryak is the author of Masterpiece Comics (Drawn & Quarterly) & iTunes Terms and Conditions: The Graphic Novel (itunestandc.tumblr.com). He has drawn for The New Yorker, The Onion, MAD & The Daily Show with Jon Stewart. His comics have been included in The Best American Comics 2015, The Graphic Canon, Drawn and Quarterly & Fable Comics. He has hosted Carousel since the '90's.
Wednesday, May 11 at 7:30pm
General Admission
$15 in advance
$18 at the door
Students/Seniors/idNYC
$12
Estimated Runtime
80 minutes
share £
Credits
Hosted by
R. Sikoryak
Photo Credit
Andrea Tsurumi
Links