Carousel
Featuring Nick Abadzis, Katie Fricas, Miss Lasko-Gross, Doug Skinner, M. Sweeney Lawless and more. Hosted by R. Sikoryak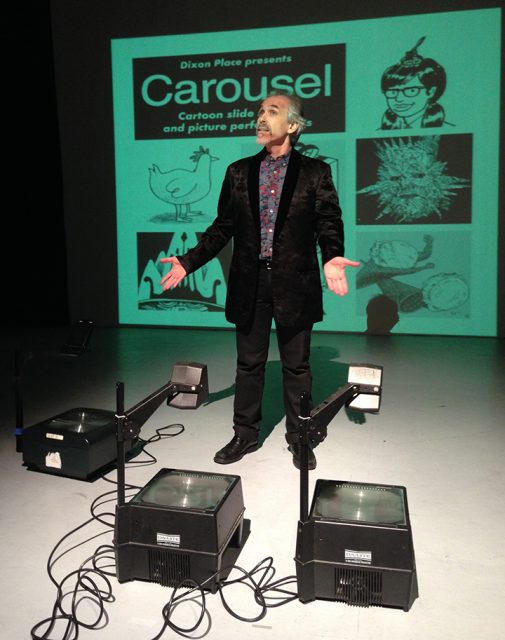 About This Show
Cartoon slide shows & other projected pictures, presented by a wide array of comic strip makers, graphic novelists and visual artists, as well as luminaries from the downtown New York theater & music worlds!
Featuring Nick Abadzis, Katie Fricas, Miss Lasko-Gross, Doug Skinner, M. Sweeney Lawless, and more!
About the Artists
Nick Abadzis is an Eisner award-winning British writer/artist: LAIKA, DOCTOR WHO, HUGO TATE. Out now: PIGS MIGHT FLY.  nickabadzis.com
Katie Fricas is a comics artist and library worker in New York City. Her diary comic Blabbermouth is available from Birdcage Bottom Books.
Miss Lasko-Gross is the comic book artist and writer of Escape from Special, A Mess of Everything and Henni, and the writer of The Sweetness. misslaskogross.com
Doug Skinner's recent books include The Doug Skinner Dossier (a sampler of short pieces), The Zombie of Great Peru (a translation of the world's first zombie story), and a collection of short stories, Sleepytime Cemetery.   www.dougskinner.net
M. Sweeney Lawless is a writer and dramaturg in NYC. Recent work includes writing in the current issues of American Bystander and Lowbrow Reader, and dramaturgy for So…Is This a Date? An Evening with Carmen Cancél and Jean Sophie Kim at the Arclight.   Twitter: @Specky4Eyes
R. Sikoryak is the author of Masterpiece Comics, Terms and Conditions, and The Unquotable Trump.  He has drawn for The New Yorker, The Onion, MAD, and The Daily Show with Jon Stewart.   rsikoryak.com
Thursday, October 19, 2017 at 7:30pm
General Admission
$15 in advance
$18 at the door
Students/Seniors/idNYC
$12
Estimated Runtime
80 minutes
share £
Credits
Hosted by
R. Sikoryak
Photo credit
Andrea Tsurumi
Links