Calle Allende ~PLUS~ The Red Chair
Anatar Marmol-Gagne ~PLUS~ Jelena Prljević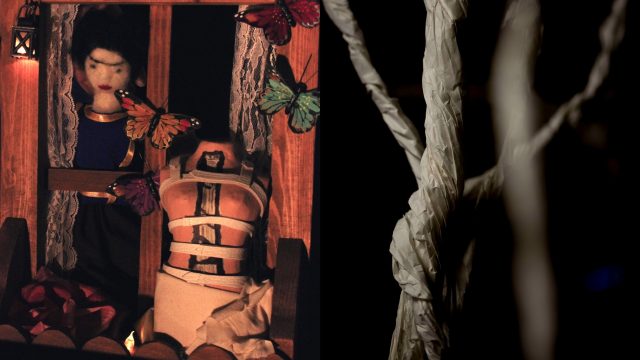 About Calle Allende
Puppet theatre production Calle Allende brings to life Frida Kahlo's struggle to reconcile her broken self and dying inspiration. Kahlo's pain has clouded her, but in a moment of clarity inspired by an entry in her diary, she realizes that without her imagination, she will lose her lifeline. "I am not sick. I am broken. But I am happy to be alive as long as I can paint." Frida Kahlo.
Anatar Marmol-Gagne is originally from Caracas, Venezuela. She holds a Master of Fine Arts in Puppet Arts from the University of Connecticut, and a BA in Creative Writing from Hunter College, NY. As a puppeteer, Anatar created The Superhero Within (Episodes 1 & 2), Sweven full length shows which premiered at the Ballard Institute and Museum of Puppetry, performed in puppet slams, taught workshops and founded the Pinned & Sewtured Puppet Slam in New Haven, CT. Her short film, The Moment Has Yet To Come, premiered at the 2017 Reel Puppetry Film Festival at the Puppeteers of America National Puppet Festival.
about The Red Chair
Using room-size paper installation, live performance, shadow imagery, projected animation, and sound, The Red Chair accentuates contradictory ideas of freedom and confinement from a female perspective. The work focuses on female courage and discovery of an independent voice to explore complexities in women's relationships and the ways they inform one's chosen path. Paper is used as the primary material and conceptual tool because of its transformative and resilient qualities. The nonverbal movement performance is enveloped in light and shadows and follows a female character as she moves from entrapment to freedom, a journey that requires continuous female support.
JELENA PRLJEVIĆ is a cross disciplinary artist from Serbia who works in an expanded field of drawing. She is currently an MFA candidate at the Art and Art History Department at the University of Connecticut and holds a BFA from the Academy of Arts in Novi Sad. Her independent and collaborative projects are exhibited and awarded internationally. Recent exhibition venues include: Artspace, New Haven (2017); European Animation Center, Athens, Greece (2016); Museum of Contemporary Art, Novi Sad (2015).   Most recently Jelena was awarded The Elizabeth Greenshields Foundation Grant that will support her upcoming project in William Benton Museum in 2018.
MARGARITA BLUSH is a puppet and devised theatre artist, director, performer, and teacher. She works and tours nationally and internationally and collaborates with diverse artists from around the world. Margarita's original productions blend live performance, shadow theatre, puppets and objects, masks, movement, and music to produce imaginative, aesthetically captivating, thought-provoking and deeply meaningful theatre experiences for the audience. Her latest show, Unfolding, has been performed at international festivals and venues in the U.S., Bulgaria, and Turkey. Margarita is a restless seeker of inspiration, collaboration, aesthetic value and social meaning in performance and has devoted her artistic life to the ever-fascinating art of theatre.
Thursday, September 21 at 7:30pm
General Admission
$15 in advance
$18 at the door
Stu./Sen./idNYC
$12
Estimated Runtime
45 minutes
share £
Credits
Creator, director, designer, fabricator – Calle Allende
Anatar Marmol-Gagne
Ensemble cast – Calle Allende
Katayoun Amir-Aslani, Darren Lee Brown, Noel Williams
Featuring/Collaborators – The Red Chair
Margarita Blush, Braley Degenhardt, Jelena Antanasijević
Photo credit:
MarmolG (for Calle Allende), Ting Zhou (for The Red Chair)
Links