In The Lounge

By The Tide

Nike Kadri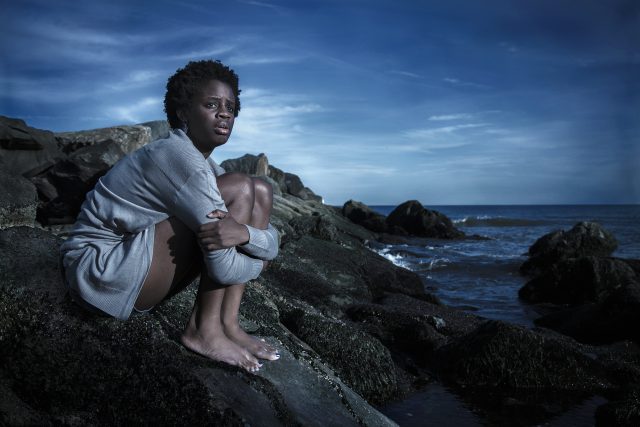 About This Show
Ina Langston, devastated by the turmoil of unceasing sorrow, is wrestling with her desire to end her time on Earth and her love for the two most important people in her life: Constance, her girlfriend and Oscar, her lover. On Constance and Ina's anniversary Ina admits to Constance that she loves Oscar with the hope of somehow preserving a fragment of their relationship but is instead told to drop dead. Ina and Oscar, feeling detached from their world and summoned by the pull of the tide, choose to make an irreversible decision rather than dwell in never-ending unhappiness.
ABOUT THE ARTISTS
NIKE KADRI is a 1st generation Nigerian-American actress and first-time screen writer born in Texas and raised in Georgia. She is a classically trained actress and singer, a dancer, playwright and songwriter. Nike lives and works in New York City and is a proud member of the Actors' Equity Association. Nike graduated Summa cum Laude from the University of Minnesota/Guthrie Theater BFA Actor Training Program in 2014 with a minor in communication studies.  As an artist and creator, Nike desires to facilitate and birth opportunity and exposure for under-represented emerging artists who are passionate about creating work for and by artists like themselves so they can succeed financially and artistically in an industry that has great potential to give voice to minority artists in New York City and beyond.
ESTEFANIA FADUL is a Colombia-born, New Hampshire-raised, New York City-based theater and film director and producer. She is passionate about developing new plays and re-examining the classics, and aims to connect diverse communities through inventive, visceral, and socially-conscious storytelling. Estefanía holds a B.A. in Drama and French from Vassar College, where she co-founded the all-women's collective Idlewild Theater Ensemble. Estefanía also holds a certificate in filmmaking from the Prague Film School.  Her original short film BEAUTY MARK was accepted into the 2011 Cannes Film Festival's Short Film Corner.
Imani Dennison is an African-American woman born and raised in Louisville, Kentucky, before attending Howard University in Washington, DC. She graduated in 2014 with a B.A in Political Science and concentrations in International relations, and a minor in Photography. While attending Howard, Imani studied abroad at The University of Western Cape in Cape Town, South Africa where she studied South African politics. It was during this time that Imani became invested in International documentary filmmaking and photography. She now works internationally and in NYC as a cinematographer.
Patrice D. Bowman is an African-American woman whose main goal is to tell complex stories of people underrepresented in the media. Patrice uses her creative skills in video editing and videography in order to craft dynamic and unique stories. She currently works as a freelance video editor and full-time media technician at her alma mater, Yale University.

Monday, January 23 at 7:30pm
Estimated Runtime
12 minutes
share £
Credits
Creator, Executive Producer & Screen Writer:
NIKE KADRI
Director:
ESTEFANIA FADUL
Director of Photography:
IMANI DENNISON
Editor:
PATRICE BOWMAN
Music by:
KAT SOUPONETSKY
Starring:
NIKE KADRI, ANNIE DOW, CONSTANTIN TRIPES
Featuring:
RICHARD SERPICA & LAKOTA SERPICA
1st Assistant Director:
PAUL LEWIS ANDERSON
1st Assistant Camera:
GREGORY ADDISON
Gaffer:
RYAN MCCLUNEY
Sound Recordist:
MARIYA CHULICHKOVA
Script Supervisor:
TENIELLE MASTERSON
Make-Up Artist:
SONII HERCULES
Costume Designer:
NIKIA NELSON
Graphic Designer:
DAVID CHARPENTIER
Still Photography:
VERANIKA ANTANEVICH
Transportation Captain & PA:
CASEY DRAKE
Production Assistant:
YUNXIN LIU
*Actors appearing courtesy of Actors' Equity Association
Equity Approved Showcase