PEN World Voices Festival presents

BREAKOUT: VOICES FROM THE INSIDE 2018

Mitchell S. Jackson, Julia Steele Allen, asha bandele, Donna Hylton, Alejo Daw'ud Rodriguez, Raquel Almazan, Liza Jessie Peterson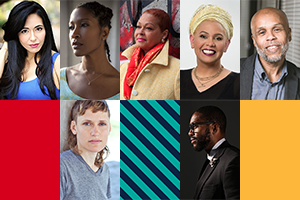 About This Show
For over thirty years, the PEN Prison Writing Program has mentored men and women incarcerated in America's prison system, helping them to unlock their voices and imagination. Join us for this celebration of the human spirit, and hear readings of the best writing from the PEN Prison Writing Contest, conducted by the PEN Prison Writing Program. The PEN Prison Writing Program reaches 20,000 inmates each year with a manual on creative and expository writing, and facilitates over 150 one-on-one writing mentorships between PEN America Members and incarcerated writers.
Mitchell S. Jackson's debut novel, The Residue Years, won the Ernest J. Gaines Prize for Literary Excellence and was a finalist for the Center for Fiction's Flaherty-Dunnan First Novel Prize, the PEN/Hemingway Award for First Fiction, and the Hurston/Wright Legacy Award. Jackson's honors include being a recipient of a Whiting Award and fellowships from TED, the Lannan Foundation, the Bread Loaf Conference, and the Center for Fiction. He is a clinical associate professor of writing in the Liberal Studies Program of New York University and an advocate for criminal justice reform
Julia Steele Allen is a writer, performer, and community organizer from New York City. Since 1997, she has done ongoing activist and solidarity work with youth and adults in prison. She coedited the book Through the Eyes of the Judged: Autobiographical Sketches by Incarcerated Young Men. In 2012, she began collaborating to write the play Mariposa & the Saint: From Solitary Confinement, A Play Through Letters with Sara (Mariposa) Fonseca. She has since performed their play 70 times across 10 states for audiences including legislators, judges, and wardens, as part of the growing movement to end solitary confinement in U.S. prisons.
Photo Credit: Catherine Hunsburger
asha bandele is the coauthor of the 2018 New York Times– bestselling memoir When They Call You a Terrorist, with Patrisse Cullors. bandele first attained recognition when she penned her 1999 debut, the award-winning  The Prisoner's Wife—a powerful, lyrical memoir about a young black woman's romance and marriage with a man who was serving a twenty-to-life sentence in prison. She is a former features editor for Essence magazine, the author of two collections of poems, the follow-up memoir Something Like Beautiful, and the novel Daughter. She is a senior director at the Drug Policy Alliance.
Donna Hylton is a women's rights activist, criminal justice reform advocate, and author of the forthcoming Hachette Books memoir A Little Piece of Light, which tells the story of the childhood abuse she endured, the spiral of events that led to her 27-year incarceration, and how she learned to live, love, and trust all over again. Hylton speaks publicly, including at the 2017 Women's March on Washington, about the issues facing incarcerated women and girls, and the impact the significant increase in the female prison population is having on families, children, and our communities.
Alejo Daw'ud Rodriguez is the Mentor and Alumni Coordinator of John Jay College of Criminal Justice Prisoner Reentry Institute (PRI). Alejo is a recipient of several PEN Prison Writers Awards, including poetic appearances in Doing Time: Anthology of 25 Years of PEN prison writersand The Outlaw Bible of American Poetry. Between 2014-2017, Alejo was also one of the founding media literacy teaching artists for Tribeca Film Institute's Community Screening Series at Otisville Correctional Facility for incarcerated men. During the course of his incarceration, Alejo received Masters of Professional Studies degree from New York Theological Seminary and a Bachelors of Liberal Arts degree from Syracuse University.
Raquel Almazan is an award-winning actor, writer, and director in theater/film/television productions, and an activist. Based on a true story, the La Paloma Prisoner Project is a multifaceted theater and outreach project about the reclamation of identity by incarcerated and formerly incarcerated women in the prison system. Almazan has facilitated arts with incarcerated women in maximum-security prisons in South Florida, incarcerated youth at Rikers Island prison in New York, and at Bayview Correctional Facility for women in Manhattan's Chelsea. She was a playwright for "Here to Be Seen: Women in Justice," in collaboration with formerly incarcerated women and the district attorney's re-entry task force. She is the Artistic Director of La Lucha Arts.
Liza Jessie Peterson is an actress (Love the Hard Way, Bamboozled, A Drop of Life, What About Me), poet, playwright (The Peculiar Patriot), educator and activist. She has worked with incarcerated populations as a reentry specialist, a teaching artist, a GED instructor and a life skills workshop facilitator. She was recently featured in Ava DuVernay's documentary 13th (Netflix) and was a consultant on Bill Moyers documentary Rikers (PBS).
Sunday, April 22, 2018 at 12pm
Estimated Runtime
90 minutes
share £