Black Queer Night
Curated by Layla Zami & Oxana Chi, in cooperation with IHRAF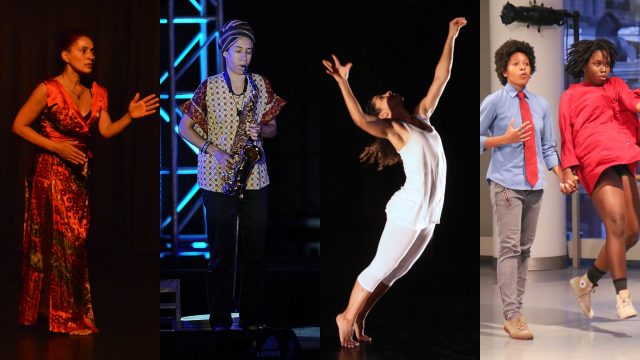 About This Show
It's Black History Month, time to celebrate Black Queer Women* lives and art with everybody! We move hearts and remove obstacles, remembering that 'resistance is love' (Pat Hall). A special event following up on Black Herstory Night (2017), this time in cooperation with the International Human Rights Art Festival.
blind spot
by Nia & Ness
A dance-poetry story of two black, out-lesbian women in a committed relationship, who navigate the daily struggles and joys of life in NYC. Nia & Ness invite the audience to enter their world as observers, listening in on their intimate, strong, and loving conversations about and influenced by their identities.
HOMESONG (excerpt)
by Layla Zami
A diasporic interlude exploring purple love with spoken words and a breeze of saxophone.
Text and Music: Layla Zami
Through Gardens (excerpt)
by Oxana Chi
Oxana Chi embodies the life of Tatjana Barbakoff, a famous dancer, muse and political resistant from 1920s/30s Europe, and blurs the boundaries with her own contemporary story. Alternating with fluidity and grace between classical European and classical Javanese dance as well as Tai Chi and Western African styles, Through Gardens creates an intimate and liberating universe centering alternative storytelling, women's resistance, and the love of art.
Idea, Choreography, Dance: Oxana Chi
Soundscore: Laszlo Moldvai (piano & hang)
Costume: Anjolita Arvandi, Huang Ning Fen
(re)Source (excerpt)
by MBDance
Within the U.S. climate of upheaval, fear, and bullying at home and abroad, Bauman is focusing on what it takes to get by, get over, survive, and thrive. Improvisation, lineage, resilience: (re)Source is a danced solo exploration of how and when we call on these assets and when we reject them entirely. As research for the piece, Bauman has been studying cartography, marronage, stories about her family, and rituals for sustainability. The dance also includes a unique visual landscape co-created by Maria Bauman with advising from Nontsikelelo Mutiti, and is performed to a Haitian electronica-percussion soundscape created live by Val-Inc.
feelingjazz
by Oxana Chi & Layla Zami
A dance-music-dialogue between a body and a saxophone. Both Oxana Chi and Layla Zami grew up in Europe, started with classical training in their respective fields, are now based in NYC, and pursue a career full of innovation, contemporary Fusion and Afro-Futurism. On the footprints of two globe-trotters who jump across continents, experience a personal and inspirational interpretation of what it means to feel jazz!
Idea, Choreography, Dance: Oxana Chi
Live-Music: Layla Zami (saxophone)
Costume: Modou Diop
about the artists
Maria Bauman is a dance artist and community organizer from Jacksonville, Florida and based in Brooklyn, NY. She founded MBDance in 2007, creating bold and honest dances from a sense of physical and emotional power, an insistence on equity, and a fascination with intimacy. In New York, Bauman's work has been showcased at Gibney Dance, Harlem Stage, 92nd Street Y Harkness Dance Center, Dixon Place, the Kumble Theater, SummerStage NYC, the Bronx Academy of Arts and Dance (BAAD!), WOW Café Theater, BRICstudios, St. Mark's Danspace, and DTW (now NY Live Arts); Bauman and MBDance have also shared work across the U.S. and in Singapore. Maria Bauman is also co-founder of ACRE (Artists Co-creating Real Equity) a grassroots community organizing group dedicated to ensuring racial equity within the performing arts. She recently won a Bessie Award for her dancing with Skeleton Architecture and is currently working on (re)Source as an Artist-in-Residence at Brooklyn Arts Exchange. Her art is at the same time a poem, a manifesto, a softening, and a beckon. www.mbdance.net
Oxana Chi is an award-winning choreographer, dancer, filmmaker, curator and publisher. An Afro-German artist based in New York, she is currently 2017-2018 Artist-in-Residence at Abrons Arts Center. As the Founder and Choreographer of Oxana Chi & Ensemble Xinren since 1991, she produced 18 feature-length productions including two commissioned works for the Humboldt-University, Berlin. She developed her own style: a transcultural fusion blending Western African, Egyptian, South East Asian and European traditional and contemporary techniques. She toured at theaters, universities and festivals in France, India, Finland, UK, Indonesia, Germany, Taiwan, Martinique, Turkey, Singapore and Australia. In NYC, she has appeared at NYU Jack Crystal Theater, MR@Judson Church, Dixon Place, CUNY, BAAD!, LaMaMa, LAVA Dance, WOW Café Theatre, University Settlement. Chi has received various international awards and grants, and was honored with the titles of Filmmaker of Inspiration and Ambassador of Peace at the DOSHIMA 2016 in Jakarta. "A somewhat delicate presence, she is, nevertheless, a woman writ large, claiming concert dance space for a diverse and teeming world, blessing that space." Eva Yaa Asantewaa www.oxanachi.de
Nia & Ness are a black, lesbian, dancer-poet performance art duo based in Brooklyn, NY. The duo met in 2013 and founded their company in 2016. They have performed at multiple venues in New York, New Jersey and Pennsylvania, sharing their work that aims at a deeper understanding of their co-reality through intense investigation of their individual identities. They have also been highlighted in local newspapers; recognized by the Brooklyn-based art group, THE CREATORS COLLECTIVE, as one of their top 5 artists of 2016; been featured in a 2017 BRIC TV segment and on Radio Free Brooklyn; performed at Brooklyn Pride 2017; are recipients of the BAX Summer 2017 Space Grant; and the winners of the 2017 National Women's Music Festival Emerging Artist Contest. Along with the couple's work together, Nia is a proud BFA dance graduate from Temple University. Immediately after graduation she began dancing in Germany and France with DAGADA dance company; and Ness is a Journalism graduate of SUNY Plattsburgh. www.niaandness.com  
Layla Zami is an independent artist and scholar working with words, music, theater, video and photo art. She graduated from Humboldt-University, Berlin with a Ph.D. in Gender & Cultural Studies, and holds an MA from Sciences Po School of International Affairs. Layla studied saxophone at the Conservatory of Music in Le Mans, as well as with Fuasi Abdul-Khaliq, Pascal Maffei and Parageet. Born in Paris, Layla is rooted in an Afro-Indian-Caribbean and Jewish-Russian-European cultural heritage and blossoms on stage as a Resident Artist (saxophone, poetry, kalimba, chalumeau) with Oxana Chi. Together, they performed in NYC, Philadelphia, Berlin, Bielefeld, Hamburg, Paris, Istanbul, Taipeh, Solo/Surakarta, and New Delhi in venues such as NCUI Auditorium, HAU Theater, Technical University Berlin, Rutgers University, BAAD, CUNY. Layla currently works as an Assistant Producer for the International Human Rights Art Festival (IHRAF) and serves on Dance/NYC's Research Task Force and Symposium Programming Committee. www.laylazami.net
Val-Inc is a Haitian percussionist, electronic music artist and sound engineer, living and working in New York City. She has performed at the Whitney Museum, the Museum of Modern Art, the Brooklyn Academy of Music, the Village Vanguard and internationally at Saalfelden Music Festival in Austria, Stanser Musiktage in Switzerland, Jazz à la Villette in France, and the Biennale Di Venezia in Italy. Granddaughter of a Mambo priestess, and related to Haitian composer, pianist & music director Occide Jeanty, Val-Inc has created a distinctive style of music called Vodou electronica which she also refers to as Afro Electronica. Commissioned works include a collaboration with Wesleyan University's Center and sound design for the theater production Facing Our Truth: 10-Minute Plays on Trayvon, Race and Privilege presented by the National Black Theater in February 2014. She is featured in the documentary film The United States of Hoodoo, where she speaks about the relationship between sound and spirituality.
Wednesday, February 21, 2018 at 7:30pm
General Admission
$15 in advance
$18 at the door
Stu./Sen./idNYC
$12 in advance
$15 at the door
Estimated Runtime
80 minutes
share £
Credits
Featuring/Collaborators
Nia & Ness, Maria Bauman, Oxana Chi, Layla Zami, Val-Inc
Photo credit:
Silvia Wojczewski (for Oxana Chi), Mas Sudya for (Layla Zami), Bill Herbert (for Maria Bauman), Noel Valero (for Nia & Ness)