Black Herstory Night
Curated by laYla Zami & Oxana Chi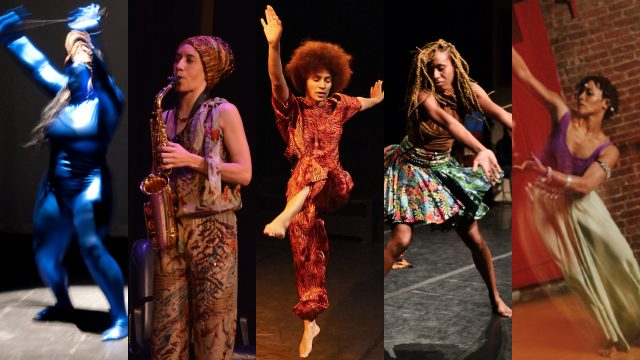 About This Show
Rock | Salt |  Stone by Rosamond S. King
A performative reading from the anticipated debut book of poems, using King's distinctive Verse Cabaret style that intermingles her poetry with original arrangements of popular songs.
Homesong by laYla Zami
A diasporic journey from Berlin to Brooklyn exploring resistance and purple love with spoken words and saxophone.
Psyche by Oxana Chi
From ancestral body memory to Afrofuturism. Searching for the affinities between Psyche and Soul, the dancer dives deeper and deeper into her inner self, to discover her own womanity. Music composed by Soleil (Didgeridoo). Costume: Dôres Maués & Mel Simon Brooklyn Clothing Lab.
Tiny Winey by Rosamond S. King
Movement-based performance art that confronts stereotypes about Caribbean women and their bodies, performed to a classic calypso song. Costume includes a loan from the Kentifrican Museum of Culture.
Of Circles and Bright Colours by Candace Thompson
The performer allows us to follow her on a journey of indulgence, intoxication, trance and liminality, and how they can be experienced in the Caribbean Diaspora. Music composed by Zane Rodulfo.  
Afro-Caribbean Dance & Movement Class excerpt with Pat Hall
An environment and dance community that nurtures, heals, renews, and inspires the body and spirit through the joy of dance. Featuring live percussions by Pam Patrick and Yuichi (Brown Rice Family). Feel free to join in!
about the artists
Oxana Chi is an award-winning choreographer, dancer, filmmaker, curator and publisher. She was born in Germany of Eastern Nigerian and Eastern European descent. As the Founder and Choreographer of Oxana Chi & Ensemble Xinren since 1991, she produced 18 feature-length productions including two commissioned works for the Humboldt-University, Berlin. She developed her own style: a transcultural fusion blending Western African, Egyptian, South East Asian and European traditional and contemporary techniques. She recently toured at international festivals in France, India, UK, Indonesia, Germany, Taiwan, Martinique, Turkey, and Singapore. In NYC, Oxana has appeared at NYU Jack Crystal Theater, Dixon Place, CUNY, BAAD!, LaMaMa, LAVA Dance, University Settlement. Oxana has received various awards and grants including the Cite des Arts Residency (Paris), Berlin City Council for the Arts, Gerda Weiler Feminist Foundation and Fonds Soziokultur. Oxana received the titles of Filmmaker of Inspiration and Ambassador of Peace at the DOSHIMA 2016 in Jakarta. "A somewhat delicate presence, she is, nevertheless, a woman writ large, claiming concert dance space for a diverse and teeming world, blessing that space." Eva Yaa Asantewaa www.oxanachi.de
Rosamond S. King is a creative and critical writer, performer, and artist whose work is deeply informed by Caribbean, African, and queer communities, by history, and by a sense of play. Her poetry collection Rock | Salt | Stone (Nightboat Books) appears in March 2017. King's performance art builds on more than 20 years of training in Afro-Caribbean dance, circus arts, butoh, and ballet, and has been curated in venues including the NY Metropolitan Museum, the Encuentro Festival (Canada), and the African Performance Art Biennial (Zimbabwe). Awards include the Franklin Furnace grant, Fulbright and Poets House Fellowships, and several residencies. Her scholarly book Island Bodies: Transgressive Sexualities in the Caribbean Imagination received the 2015 Caribbean Studies Association best book award. She is an Associate Professor at Brooklyn College, CUNY. Her goal is to make people feel, wonder, and think, in that order. www.rosamondking.com
Pat Hall is an internationally acclaimed dancer/choreographer and teacher.  Her style is most influenced by African, Caribbean, and contemporary American dance. Her interest in ceremonial and ritual practices of indigenous peoples most influences her choreographic work. Pat has appeared domestically at such places as the Joyce Theater, Carnegie Hall, Merkin Hall, Dance Theater Workshop, Brooklyn Academy of Music, and Jacob's Pillow, as well as in numerous theaters around the world including Peru, Hungary, Korea, Switzerland, Germany, Austria, England, and Senegal. She also toured extensively as a guest artist with Urban Bush Women. Pat is an adjunct professor at the Tisch School of the Arts at New York University. Her longest-term and most devoted student following converges in the Pat Hall Dance and Movement Class, launched in Manhattan in the early 1980s and currently held at the Mark Morris Dance Center in Brooklyn. http://www.pathalldance.com/
Candace Thompson, a Native of Trinidad and Tobago, is a dancer/choreographer/cultural producer/personal trainer and a graduate of Adelphi University fluent in several forms including Modern, Contemporary, Caribbean and Afro-Diaspora with a specialty in Soca Dance. She currently collaborates with Areytos Performance Group, Renegade Performance Group, Sydnie L. Mosley Dances. Candace produces her own dance work under two umbrellas: ContempoCaribe and Dance Caribbean COLLECTIVE. ContempoCaribe's work has been performed at Dance Caribbean Collective's New Traditions Festival, COCO Dance Festival (Trinidad), Dancing While Black:jumpin fences, Dance Enthusiast's Moving Caribbean in NYC among others. She also founded the Dance Caribbean COLLECTIVE, a collaborative and organising body, creating platforms for artists developing work from a Caribbean perspective, to show their work within the local diaspora community in NYC. DCC produces a season of events leading up to the annual New Traditions Festival. www.candacedancefitness.com www.dancecaribbeancollective.com
laYla Zami is an artist and scholar working with music, acting, writing, video and photo art. laYla received funding from the Doctoral Talents Fund ELES/BMBF, French Ministry of Youth and the Foundation Zurueckgeben for Jewish Women in Arts and Sciences. Former Visiting Research Scholar at Columbia University (IRWGS) and NYFA's Performing Arts Program Alumni. A Graduate of Sciences Po Paris, laYla also enjoyed learning from international movement and music artists such as Oxana Chi, Suheer Saleh, Fuasi Abdul-Khaliq, Pascal Maffei, Parageet, Mestre Grande da Bahia, Bilonda Bukasa, Pat Hall. Born in Paris, laYla is rooted in an Afro-Indian-Caribbean and Jewish-Russian-European cultural heritage and blossoms on tour with Oxana Chi. laYla performed saxophone, kalimba and words at universities, festivals and theaters in NYC, Philadelphia, Berlin, Paris, Istanbul, Hamburg, Taipeh, Solo/Surakarta, New Delhi. The Homesong solo opened the Trans*formations Festival at Werkstatt der Kulturen Theatre in Berlin. www.laylazami.net
Thursday, February 16 at 7:30pm
General Admission
$15 in advance
$18 at the door
Stu./Sen.
$12
Estimated Runtime
80 minutes
share £
Credits
Photo credit:
Anil Katiriyu (for laYla Zami)
Charles Rice Gonzalez (for Oxana Chi)
Stephanie Berger (for Pat Hall)
Kearra Gopee (for Candace Thompson)