In the lounge

Being Human: A Poetry Reading

Chris Antzoulis, Joanna C. Valente, and Julia Gari Weiss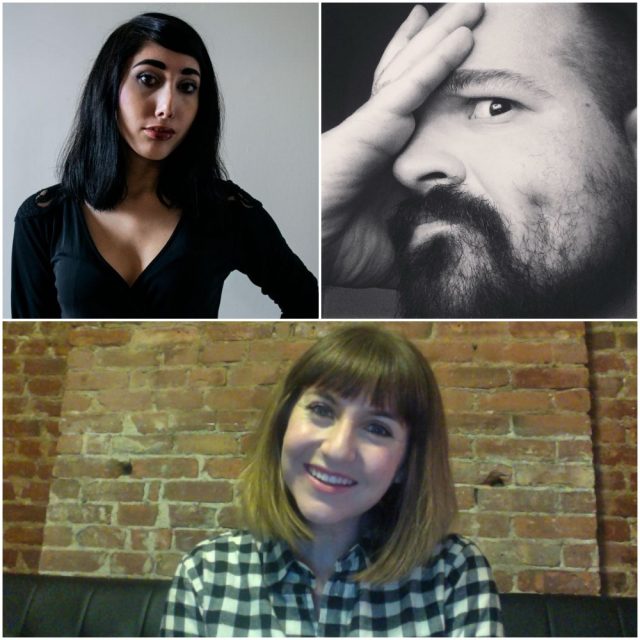 About This Show
The poets Chris Antzoulis, Joanna C. Valente, and Julia Gari Weiss get together for an evening of observational poetry inspired by contemporary events and exploring human interactions. No subject will go unacknowledged with these three nonconformists who write about topics from relationships to abortion to pop culture – but in a non-pretentious way. If you've always wanted to understand poetry and could never get into it, then this is the show for you. If you know poetry profoundly and are well versed in Whitman, then you should come too, and also bring a friend. See ya there!
About the Artists
Chris Antzoulis is a New York-based comic book writer and poet with an MFA in Creative Writing from Sarah Lawrence College. He has also helped other writers reach audiences through his work on literary magazines such as Madcap Review and Lumina. He currently lives in Queens, NY with his two evil cats and teaches writing at Mercy College in Dobbs Ferry, NY.

Joanna C. Valente is a human who lives in Brooklyn, New York. She is the author of Sirs & Madams (Aldrich Press, 2014), The Gods Are Dead (Deadly Chaps Press, 2015), Marys of the Sea (forthcoming 2016, ELJ Publications) & Xenos (forthcoming 2017, Agape Editions). She received her MFA in writing at Sarah Lawrence College. She is also the founder of Yes, Poetry, as well as the managing editor for Luna Luna Magazine. Some of her writing has appeared in Prelude, The Atlas Review, The Huffington Post, Columbia Journal, and elsewhere. She leads workshops at Brooklyn Poets.

Julia Gari Weiss is the author of the poetry collection "Being Human," published by Thought Catalog Books. She received her MFA from Sarah Lawrence College and is the recipient of the Academy of American Poet's John B. Santoianni Award for Excellence in Poetry. Julia has been published in The Huffington Post, The Australian Women's Weekly, Thought Catalog, Old Red Kimono, 3Elements Review, Image Curve, and The Santa Monica Star, and has work forthcoming in The Deadly Writers Patrol. She is proudly from Santa Monica, California, and currently resides in Brooklyn, New York. Please follow her on Instagram @JuliaGari and visit her website at www.JuliaGari.com.
Friday, January 20 at 7:30pm
Estimated Runtime
45 minutes
share £
Links