in the lounge

BEAR and The Unreliable Bestiary

Deke Weaver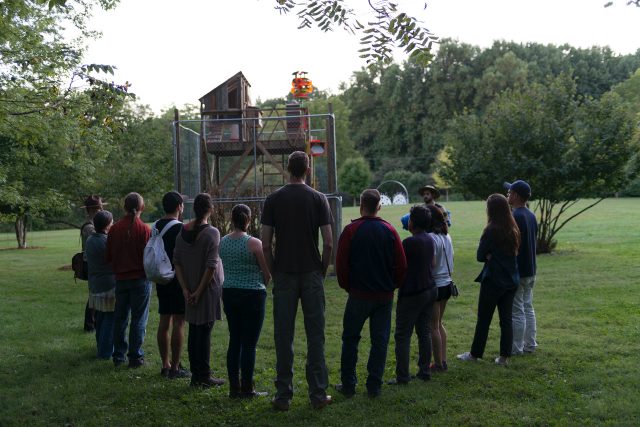 About This Show
The Unreliable Bestiary is presenting a performance for every letter of the alphabet, each letter represented by an endangered animal or habitat. Smaller versions of these sprawling events have been presented at the Sundance Film Festival, the Houston Cinema Arts Festival, the Cinema Pacific Film Festival, the Goat Farm (Atlanta), classrooms, living rooms, theaters and galleries across the country. This touring show introduces The Bestiary with cinematic documentation and live excerpts from MONKEY, ELEPHANT, WOLF and BEAR – the first four performances in this life-long project. The Bestiary has been supported by grants from Creative Capital and the Guggenheim Foundation.  
press quotes
"WOLF was a singular and haunting experience."
Richard Powers – National Book Award–winning author of The Echo Maker
"Other Animals is a beautiful, quirky, deep show full of Deke's combination of lyrical storytelling and precisely drawn characters. It's disturbing and perverse, in the best way."
Holly Hughes – playwright/performance artist
"Each installment of Deke Weaver's Unreliable Bestiary has been more incredible than the last. Perhaps it's the brilliant story telling, or maybe it's Weaver's performance presence. WOLF is one of the most moving and profound and completely immersive theater experiences I've ever had. It somehow taps deep into your own childhood psyche to give you an empathic – and fantastic – connection to the animal kingdom that just doesn't go away."
Jonathan Fineberg – scholar, curator, and author
"2010 wouldn't be complete without the Art 21 world knowing about this mind-blowing show in a stock pavilion… I don't know where to begin here, whether it was Deke Weaver's humor, epic video productions or thoughtfully crafted dance and music by his collaborators, Jennifer Allen and Chris Peck. Weaver's videos were stunning… Weaver's style, a layering of live footage, stop-motion animation, projected text and monologue combine to create a sense that there is more to a story than what we see or hear… Allen's ability to create subtle yet precise differentiations in the dancers' gestures and formations was remarkable, virtuosic and gritty. The secret of ELEPHANT… is wrapped into a package of video, music, dance and narrative performance that is sensational, entertaining and humorous."
Marissa Perel – Art 21 Blog
"MONKEY shines in unpredictable ways. … a journey as holy and outrageous as the mythology of Hindu monkey gods or of 1950s Hollywood science fiction, redemption and sacrifice all rolled up like King Kong at the top of the Empire State Building. MONKEY offers a compact, nuggety mindblower…"
Smilepolitely.com
"Weaver's writing intrigues, while his conspiratorial, cool-to-manic stage presence trips nuggets of off-kilter humor like a tap-dance through landmines."
Dennis Harvey – SF Weekly
"Garrison Keillor meets Carlos Castaneda in writer-performer Deke Weaver's cunningly interwoven tales…the magic of the narrative soars…it casts an undeniable spell."
Brad Rosenstein – San Francisco Bay Guardian
"Brilliant."
Elizabeth Zimmer – Village Voice
about the artist
Deke Weaver's work has been presented by PBS, the Sundance Film Festival, Channel 4/U.K., the New York Video Festival at Lincoln Center, the Chicago Humanities Festival, the Berlin Video Festival, The Moth, and many others including livestock pavilions, backyard sheds and living rooms. A resident artist at Yaddo, Isle Royale National Park, the Taft-Nicholson Environmental Humanities Center, HERE, a three-time resident at Ucross, a five-time fellow at the MacDowell Colony, a Guggenheim Fellow and Creative Capital grantee, Weaver is currently an associate professor in the School of Art & Design, University of Illinois, Urbana-Champaign.
Thursday, September 28 at 7:30pm
Estimated Runtime
65 minutes
share £
Credits
Codirector/Choreographer
Jennifer Allen
Composer/Sound-Designer
Chris Peck
Lighting Designer/Photographer
Valerie Oliveiro
Environmental Designer
Andy Warfel
Performers (in video documentation)
Jennifer Allen, Nico Brown, Thomas Brown, Laura Chiaramonte, Jessica Cornish, Joe Coyle, David Hays, Niall Jones, Kyli Kleven, Aaron Landsman, Jorge Lucero, Steve May, Cynthia Oliver, Chris Peck, Angie Pittman, Deke Weaver
Photo credit:
Nathan Keay
Links