April and Nina's Salon
INFEMNITY™ Productions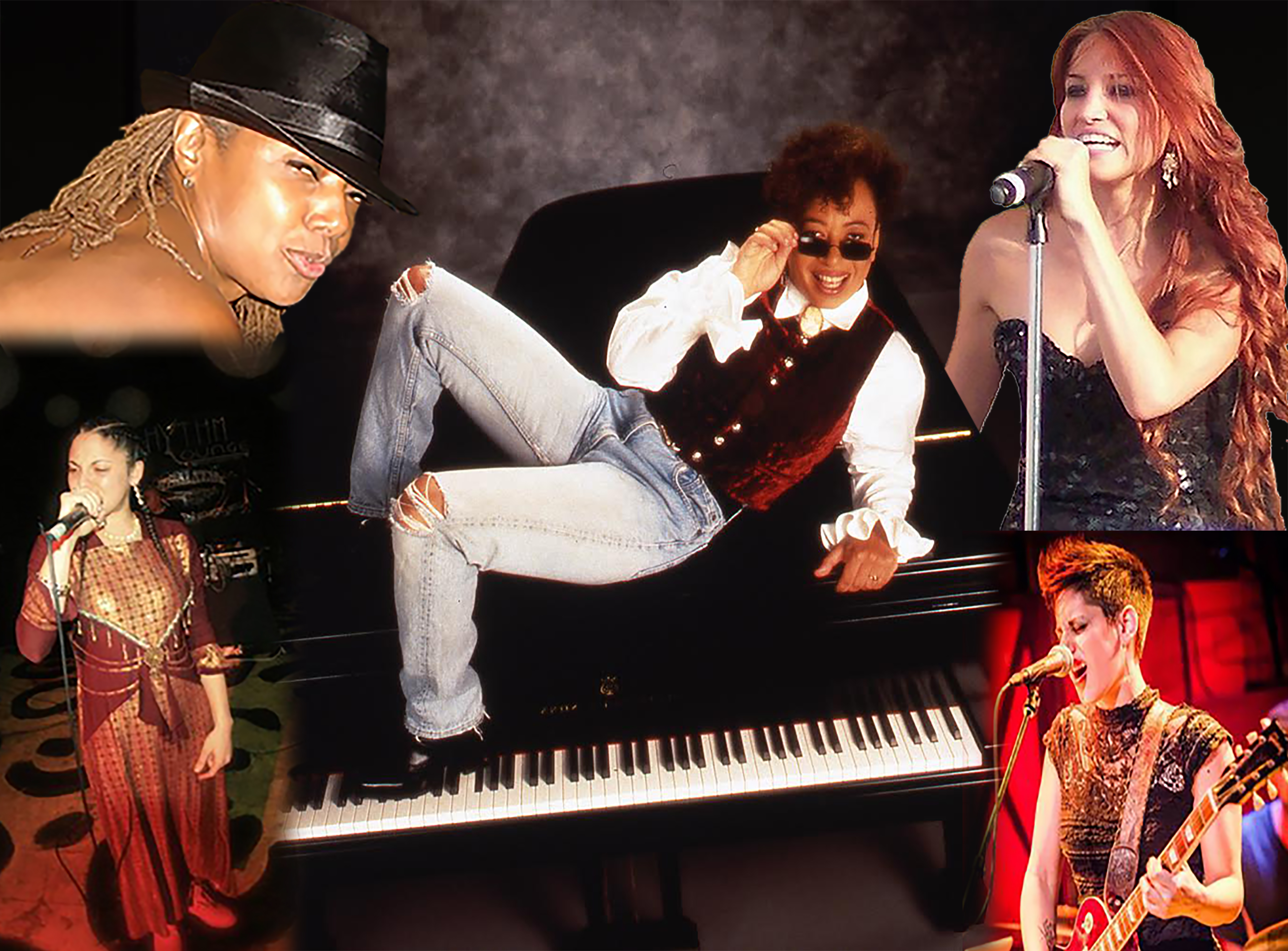 About This Show
April and Nina's Salon, INFEMNITY™ Production, presents an evening of stellar performances by:
Nina Kennedy ("A Fine Pianist… sensuous and piquant" – NY Times)
Singer/songwriter/guitarist Rony Corcos of "Rony's Insomnia" ("Rony's Insomnia's work is just absolutely beautiful… sublime…" – SoundCloud)
Singer/songwriter Martina Mehta ("A quintessential performer [with a] bluesy, gutsy, Broadway-style voice." – aprilandninasalon.com)
Rapper Nejma Nefertiti ("Also known as verbal assault artist, [she] is skilled with killer lyrics and a message of freedom for all boxed-in minds. Mysterious and fierce, she is a female warrior." –ReverbNation)
Spoken-word performance artist Rosalind Lloyd ("… a contemporary fiction and erotica writer – and occasional poet – whose work has appeared in over fifteen anthologies including the Best Lesbian Eroticaand Best American Erotica series." – My Feet Only Walk Forward: Not Your Mama's News Source)
Music by guest DJ RiMix!
about the artists
Nina Kennedy is a world-renowned concert pianist, orchestral conductor, and award-winning filmmaker. She gave her first complete piano recital at nine years old, and appeared as piano soloist with the Nashville Symphony playing Gershwin's Rhapsody in Blue at age 13. She holds a master's degree from the Juilliard School where she studied with Leonard Bernstein. Kurt Masur acted as her conducting mentor during his tenure as music director with the New York Philharmonic and L'Orchestre National de France. For 12 years she lived and performed in Europe, residing in Vienna, Cologne, and Paris. She produced and directed the documentary film titled Matthew Kennedy: One Man's Journey, which was selected and screened at international film festivals worldwide.
Rony Corcos is the lead singer of "Rony's Insomnia," a New York based band. Rony released her debut album Count To Ten in December 2014 and completed a solo European tour in 2015 that included performances in Reykjavik (Iceland), London, Berlin, Paris, Amsterdam, Barcelona, and Tel Aviv. "Rony's Insomnia" has played at New York's CMJ festival, and Austin's SXSW festival. "Rony's Insomnia" performs regularly in New York staples such as Rockwood Music Hall, The Living Room, Pianos, Brooklyn Bowl, The City Winery, BB King's, and Union Hall.
Martina Mehta was born in New Orleans, Louisiana. She is a self-taught vocalist who has been singing since she was a young girl. Martina has performed with James Brown, was a semi-finalist in the nationwide search for "The Next Pussycat Doll," and played the part of "Christina Miller" in the web TV series The Lovers and Friends Show. Martina recently relocated to New York City where she has performed in numerous Off Broadway musical productions.
Rosalind Lloyd is a quintessential New Yorker, faux-fashionista, moody-foodie, over-caffeinated, pseudo-intellectual, peaceful healer, minimalist who sometimes assumes the identity of music critic, journalist, occasional poet and contemporary fiction writer, whose work has appeared in various forms and manifestations including over 15 erotica anthologies including Best American Erotica, Best Lesbian Erotica and The PANIC Series.  Writing is her 1st Love, travel is her passion, chocolate is her weakness but her queer nuclear Family is her everything.
Nejma Nefertiti is a powerful and unique multi~media Hip Hop artist, poet, cultural producer, sound designer, revolutionary goddess, and perfumer. She is a regular performer for The New Black Arts Movement, and has recently performed at venues including the Cornelia Street, Commons, and Nuyorican Poets Cafés, as well as Club Pyramid, the Kumble Theater, and the Bronx Museum of the Arts. In 2016 she composed the score for the award-winning short film I Like It Better When You Do It by Michelle Sutherland, which was screened at the Third Eye Film Festival in New York City. www.nejmashea.net  
Wednesday, April 12 at 7:30pm
General Admission
$15 in advance
$18 at the door
Stu./Sen./idNYC
$12
Estimated Runtime
100 minutes
share £
Credits
Featuring/Collaborators
Nina Kennedy
Nejma Nefertiti
Rony Corcos
Martina Mehta
Rosalind Lloyd
DJ RiMix
April Gibson
Links