Almodóvar Dystopia
Antonio Ramos & the Gang bangers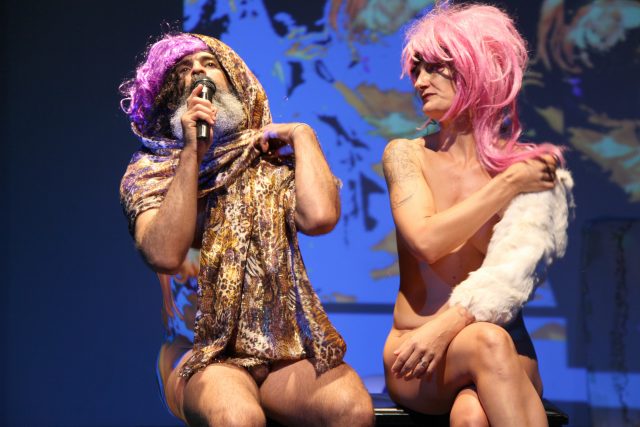 About This Show
With his Queer-Puerto-Rican Cha-Cha-Heels Shaman identity as a point of departure, choreographer Antonio Ramos explores themes related to gender diversity and 'sub-class' conflicts. Using personal stories and identities, the company creates exaggerated personas that explore the challenges, anxieties and neuroses that the process of making dance conjures. By aligning, juxtaposing and smashing these characters up against each other in an environment full of glamour and decadence, Ramos' penetrating movement vocabulary creates a shockingly hysterical world evocative of Almodóvar's most outrageous characters.
About the Artist
Antonio Ramos is a dancer, choreographer and certified body work practitioner from Puerto Rico whos current work has been presented at American Realness,  The Center for Performance Research, Jack and Museo del Barrio. He is currently a resident artist at Gibney Dance and Dancespace Project. Ramos is the artistic director and choreographer for Antonio Ramos & the Gang Bangers. 

This Dixon Place commission is made possible, in part, with public funds from NY State Council on the Arts with the support of Gov Andrew Cuomo & the NY State Legislature, NYC Department of Cultural Affairs in partnership with the City Council, and private funds from the Jerome Foundation, Mertz Gilmore Foundation. and the Harkness Foundation for Dance.
** This show contains explicit sexual content and nudity**
Saturday, October 7, 2017 at 10pm
General Admission
$22 in advance
$25 at the door
Students/Seniors
$19
share £
Credits
Collaborators/Dancers:
Luke Miller
Darrin Wright
Sarah White Ayon
Alvaro González
Angie Pitman
Awilda Rodríguez Lora
Antonio Ramos
Costume Designer:
Claire Fleury
Set
Sam Gassman
Composer:
Admanda Kobilka
Dramaturgy:
David Drake
Video Person:
Alex Romania
Lighting Designer:
Serena Wong
Photo credit:
Peter Yesley
Links