Almodóvar Dystopia Material + boi do(et) + Entre Deux/Last one for the road
Antonio Ramos & the Gang Bangers + Anthony Alterio & Michael Parmelee + Alexandra Pinel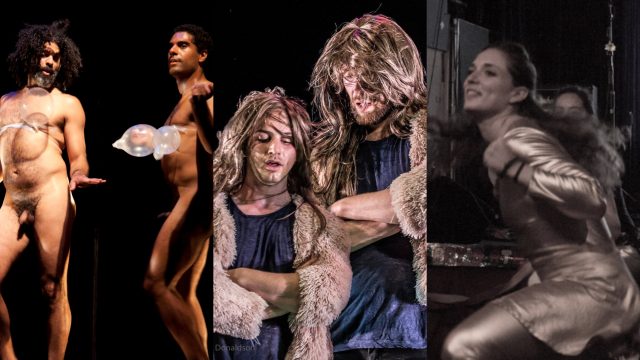 About This Show
Almodóvar Dystopia Material – I'm not exotic, but I'm exhausted. I'm not exotic, but I'm exhausted. I'm not exotic, but I'm exhausted. I'm not exotic, but I'm exhausted. I'm not exotic, but I'm exhausted. I'm not exotic, but I'm exhausted. I'm not exotic, but I'm exhausted.
boi do(et) is a queer performance that showcases the journeys and experiences of two gay men through contemporary dance and pop culture. Through clashing of scenery, props, and recognizable gestures a story emerges and shines light on new territories for queer men in dance. A balance is achieved when the nostalgia of the living room sofa, light bulbs, and a sandbox turtle are queered, manipulated, and revamped. boi do(et) pleases the watcher with its set design, choreography, and positive use of gay bodies and will inspire within you an urge to find a do(et) of your own.
Entre Deux/Last one for the road is a talk show about modern love, performed whiteness and motivational speakers/preachers. With Alexandra, the choreographer, as MC, this ego trip turns to the audience for approval and advice in a karaoke and dance filled fantasy of the heart.
about the artist (Almodóvar Dystopia Material)
A native of Puerto Rico, Antonio Ramos performed with choreographers Mark Dendy, Neil Greenberg, Jeremy Nelson, Stephen Petronio, Merian Soto, Kevin Wynn, Donna Uchizono, etc. His work has been presented at Hostos College, The Kitchen, NYLA, DTW, SUNY/Purchase, BAAD!, Dixon Place, PS122, Abrons Art Center, Joe's Pub, Taller Pregones, Danspace Project, Lexington Center for the Arts, DanceNow Downtown, Princeton University, Movement Research at the Judson Church, BAX, Galapagos, WAX, and Fringe Festival Montreal. Resident artist at El Museo del Barrio (2012-13), National Association of Latino Arts and Cultures (2011-12), and currently at Movement Research. BFA, Dance, SUNY/Purchase.
about the artists (boi do(et))
Anthony Alterio is a choreographer and queer performance artist. Currently on faculty at the University of Kentucky, he explores representations of effeminate gay men in pop culture as part of a larger interest in how dancers present themselves. Anthony works toward creating dance that goes beyond queer identity and heteronormativity.
Michael Parmelee is an avid performer, improviser, and dance maker who aims to cultivate performance as a passionate space for the exploration of identity. Pleasure, sexuality, and desire are paramount to his performance and choreographic practices. Michael holds an MFA from the University of Michigan and works in New York City.
about the artist (Entre Deux/Last one for the road)
Alexandra Pinel is a choreographer from Paris, France and has showcased work at Dixon Place, Brooklyn Arts Exchange, at the House of Scandinavia and on NPR Classical Music's blog among others. She has choreographed for bands such as Chinese punk band Re-TROS, Fade On, and Prince Rama and danced for luciana achugar, Stacy Grossfield, Joya Powell and Kim Brandt among others. Alexandra has worked for Half Straddle, Young Jean Lee's Theater Company, New York Public Radio and choreographer luciana achugar. She was a Luther Rice Research Fellow and is a Maida Withers Dance Construction Company Award Recipient for innovation in Dance.
Thursday, July 6 at 7:30pm
General Admission
$15 in advance
$18 at the door
Stu./Sen./idNYC
$12
Estimated Runtime
55 minutes
share £
Credits
boi do(et) – Choreographed by
Anthony Alterio, Michael Parmelee
boi do(et) – Performed by
Anthony Alterio, Allison Blakeney, Michael Parmelee, Paty Solorzano
Entre Deux/Last one for the road – Choreographed by
Alexandra Pinel
Entre Deux/Last one for the road – Performed by
Lisa Fagan, Liz Charky, Ayano Elson, Alexandra Michaud, Isabella Jackson, Nadia Tykulsker
Live Music
Jodi Karem
Music
N'Sync, Gloria Estefan, and Donna Lewis
Photo credit:
Ian Douglas (Almodóvar Dystopia Material), Kirk Donaldson (for boi do(et)), Lippe (for Grit)
Links