After I Was Free
Everyday Inferno Theatre Company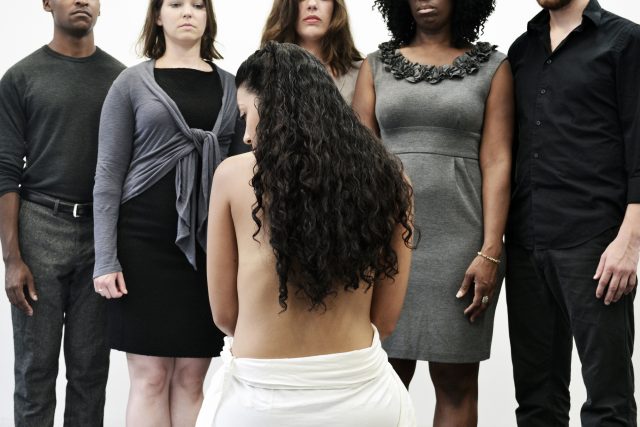 About This Show
The beautiful Susanna is cornered by two elders of the town while bathing naked in her garden. They offer her an impossible choice: submit to their desires, or resist and face slander and public trial. Her decision, and the repercussions that follow, sets the stage for a powerful and unnervingly contemporary examination of slut-shaming, rape culture, and the exploitation of women's sexuality in popular media. In After I Was Free, Everyday Inferno presents in-progress excerpts from Caroline Angell's original musical adaptation of the biblical story of Susanna and the Elders, with music by Grace Oberhofer.
About the Artists
Caroline Angell received her B.A. in Musical Theatre from American University in 2005, and has had her work shown as both a playwright and director in NYC and the Washington DC area. Caroline's play, Briar Rose & the Thirteenth Fairy, was the inaugural production for EITC. Her recent projects include directing Carousel for The Theatre Lab, and assistant directing the world premiere of Tamar of the River at Prospect Theatre, directed by Daniel Goldstein and nominated for two Drama Desk awards. Her debut novel, All the Time in the World, was published by Henry Holt & Company in July.
Anaïs Koivisto is an NY-based freelance director, and the Artistic Director of Everyday Inferno Theatre Company. She has directed for Pipeline Theatre Company, FringeAL FRESCO, Seiche Productions, Spicy Witch Productions, FRIGID Festival, Looking Glass Theatre, 3V, and CORE Artists' Ensemble. Anaïs holds a BFA from Boston University and has studied at LAMDA and ACT, is a New York Affiliate member of Seiche Productions, and has served as a member of (Re:) Directions Theatre Company and the Theatre Artists' Conspiracy. Upcoming: Othello (Match:Lit)
Grace Oberhofer is a recent Tufts graduate, having received a B.A. in Music with a minor in Italian Studies (summa cum laude, '15). While at Tufts, Grace collaborated as a performer, composer, sound designer and music director in both student and faculty-led productions. Recent collaborations include assistant music direction with the Adirondack Theater Festival and sound design with Gloucester Stage Company, Tufts University, and Fresh Ground Pepper. Current compositional projects include a choral play, ICONS/IDOLS, recently presented at the 2016 New Ohio Ice Factory Festival, a deconstructed presentation of Hedda Gabbler at HERE Arts Center, and A Doll's House: A New Opera.
Christopher Zander is an active music director in New York City and is excited and grateful to be presenting new work with this team of peers. Recent credits include Shoes & Baggage at the cell and 9to5 Productions' 25th Annual Putnam County Spelling Bee at the Kraine Theater. He is also an accompanist in NYU Steinhardts' Vocal Performance program and in private vocal studios. B.A. Music, St. Olaf College.
Actors' Equity Association (AEA), founded in 1913, represents more than 50,000 actors and stage managers in the United States. Equity seeks to advance, promote and foster the art of live theatre as an essential component of our society. Equity negotiates wages and working conditions, providing a wide range of benefits, including health and pension plans. AEA is a member of the AFL-CIO, and is affiliated with FIA, an international organization of performing arts unions. The Equity emblem is our mark of excellence. www.actorsequity.org
Tuesday, September 27 at 7:30pm

General Admission

$15 in advance
$18 at the door
Students/Seniors/idNYC

$12
Estimated Runtime
50 minutes
share £
Credits
Featuring
Dax Dupuy
Jarrad Biron Green*
Natalie Martzial
Melvinna Rose
Rita Suri
Daniel Scott Walton*
Joell Weil*
Nicholas Yenson*
Text by
Caroline Angell
Music by
Grace Oberhofer
Directed by
Anaïs Koivisto
Music Direction
Christopher Zander
Produced by
Everyday Inferno Theatre Company
Production Stage Manager:
Frances Swanson
Photo credit
Anais Koivisto
*Actors appearing courtesy of Actors Equity Association/ AEA Approved Showcase
Links