In the lounge

About Face

Drae Campbell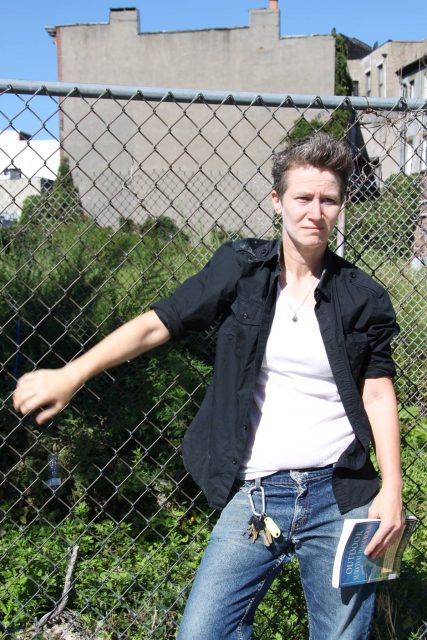 About This Show
Each headshot represents a different headspace and a different struggle until Drae arrives in the present as a person and performer. She steps outside of each of the images throughout a 20 year span to discuss and analyze what was going on emotionally underneath the glossy image she was projecting. The first image is Drae at age 18 with long blonde hair, earrings and make up. In the final image she has short grey hair, masculine clothing, and no make up. How does she get from there to here? Gender is presented as a subjective and emotional journey, laced with humor, sadness, joy and mystery.
about the artist
Drae Campbell has an eclectic career as an emcee, comedian, director, actor, storyteller and all around entertainer. Drae received a BFA in Theater from the University of The Arts in Philadelphia. She's been spotted on IFC.Com, Conan O'Brien, Refinery29 and in various films. Some fave theater credits include: Non-Consensual Relationships With Ghosts at La Mama, My Old Man, Dixon Place, Oph3lia at HERE.  Drae got to appear for a wonderful moment or so as a 'radical lesbian'  in Taylor Mac's 24 Decade History Of Popular Music at St. Ann's Warehouse. She's been seen onstage at  Joe's Pub, The Knitting Factory, The Stonewall Inn and on various cabaret, burlesque and comedy stages all around NYC.  Additionally, Drae wrote and starred in the award winning short film You Move Me with Rebecca Drysdale. Lately, Drae hosts and curates a live monthly show called TELL. TELL is a queer storytelling show that happens at The Bureau Of General Services Queer Division. Look out for a forthcoming podcast of TELL in 2017!
Monday, July 24 at 7:30pm
Estimated Runtime
60 minutes
share £
Credits
Photo credit:
Eva H.
Links