in the lounge

A Tribute to May Irwin: Rag-Time Germs of Love

Lara Allen, Charlie Judkins & J. Boxer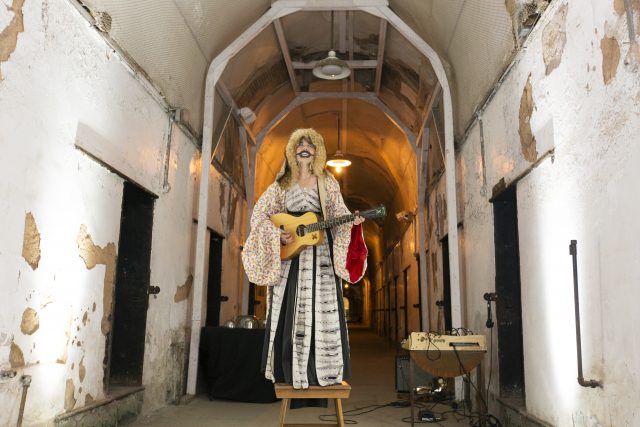 About This Show
Rag-Time Germs of Love are dedicated to performing forgotten songs of the Rag-Time era. Their repertoire consists of a wide range of bizarre, rocking obscurities, many of which haven't been heard in over a century. The lyrics are often reimagined as was traditionally done by some of the first performers of early American popular music.
about the artists
Lara Allen is an interdisciplinary artist whose recording credits include Secret Chiefs 3, Heavenly Ten Stems and Caroliner. She's performed at the Musee de Beaux Artes /Havana Cuba, MOCA /Cleveland, Contemporary Art Center /Cincinnati (CAC), Queens Museum, Brooklyn Conservatory of Music, Eastern State Penitentiary and SFMOMA. She's currently working on a solo performance-The Program – about the folly of being institutionalized and brainwashed as a teenager growing up in Cincinnati.
Charlie Judkins came up under the informal tutelage of several highly-regarded pianists including Terry Waldo, Mike Lipskin, Ehud Asherie and the late George Mesterhazy. He is currently working on piano scores for silent animation archivist Tom Stathes's series of Blu-Ray releases.
J Boxer is a multi-instrumentalist who has been playing in bands/writing original material since 2003. Band credits/collaborators include Fiasco, BLUFFING, A Beacon School, Kane Dulaney Balser and Juno Roome, Banzai, Butter the Children, The Gradients, The Homosexuals, Le Rug, Living Serious, Old table, Red Dwarf, Slam Down Birthday Cake, Stringer, Stungun, and Tetsuo, to name a few. J runs a label called Underdog Pop Records.
Wednesday, January 31, 2018 at 9pm
General Admission
$10 in advance
$15 at the door (cash only at the door)
Estimated Runtime
45 minutes
share £
Credits
Lighting design by
Jacob Bills
Costume collaboration with
Sue Jeiven
Photo credit:
Alexa Hoyer
Links