In the lounge

A Tribe Called Butch

Featured artists Karen Jaime & Ilsa Jule with ATCB curator, Marty Correia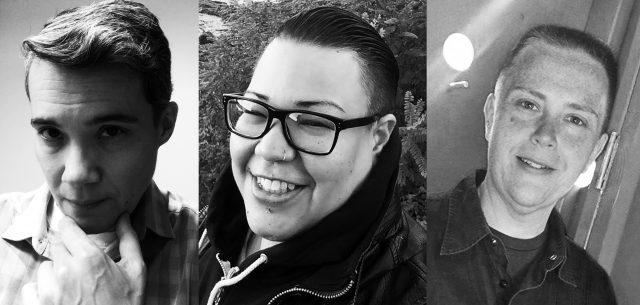 About This Show
A Tribe Called Butch is a fast and furious (45 minutes—don't be late!) literary reading series that features butch-identified writers and artists. Events are planned with an inclusive understanding of what it means to be butch.  Curator Marty Correia aims to create community and bring awareness about the butch tribe/community/kin that spans time, place and identities. Free admission, so you can afford to bring a friend or two or three. Guaranteed fun or your time refunded in the afterlife.
about the artists
Karen Jaime (Ph.D., Performance Studies, NYU) is Assistant Professor of Performing and Media Arts and Latina/o Studies at Cornell University. Jaime is also an accomplished spoken word/performance artist who served as the host/curator for the Friday Night Slam at the world-renowned Nuyorican Poets Café, participated in the spoken word documentary Spit!, and was featured in the Emmy-award winning CUNY-TV program Nueva York, a show focusing on the different aspects of Latin@ culture in New York City. Jaime's current monograph, The Queer Loisaida: Language and Performance at the Nuyorican Poets Café, argues for a reexamination of the Nuyorican Poets Café as a historically queer space, both in terms of sexualities and performance practices. Jaime has published in: Women and Performance: A Journal of Feminist Theory, e-Misférica, Small Axe: A Caribbean Journal of Criticism, and in TSQ: Transgender Studies Quarterly. In addition, Jaime's poetry is included in: The Best of Panic! En Vivo From the East Village, Flicker and Spark: A Queer Anthology of Spoken Word and Poetry, and in a special issue of Sinister Wisdom: A Multicultural Lesbian Literary and Art Journal, "Out Latina Lesbians."
Ilsa Jule emerged as a story teller and performer in 2016 after 18 years of hiding in corporate America. In the early 1990s you might have seen Ilsa Jule "crossdressed" on Geraldo, The Joan Rivers Show, or Real Personal. In the late '90s you might've read one of her stories in anthologies of lesbian erotica or seen her in a video for the Magnetic Fields. She is grateful to Marty Correia for the invitation to share the stage with A Tribe Called Butch and delighted to promote the awesomeness and rarity that is butch.
Marty Correia writes fiction and poetry in the East Village where she has lived with conceptual artist Kate Conroy for twenty years. Marty's work has appeared in several publications including The Mailer Review, FUSE, Punk Soul Poet, Lady Business (Sibling Rivalry Press) and Fiction Fix. She reads her work often at NYC venues and ran the Wicked Queer Authors literary series at Dixon Place. The New York Department of Cultural Affairs funded Marty to produce the 2016-2017 reading series A Tribe Called Butch. A graduate of NYU's creative writing MFA program, she recently finished Brickbat, a novel set in Bridgeport, CT and Coney Island, NY that spans from the days of P.T. Barnum to 1986. Marty is now at work on her next book about a widowed hoarder, a queer lounge singer and a hairless cat.
Thursday, July 20 at 7:30pm
Estimated Runtime
45 minutes
share £
Links