​The Boehner Sisters
​Rosa Palmeri & Natalie Rich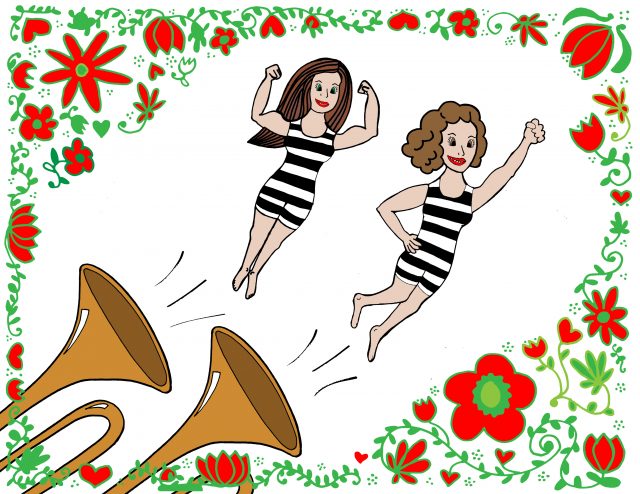 About This Show
Not one year after Budapest's most well attended and evenly tied sporting event of 2016, reigning strongwoman champions Zofia and Zorka Boehner have joined forces to take on the scraggly remains of America's Vaudeville circuit in a marvelous display of Hungarian strength and brassy charm! You can expect iron-bending, anchor-chucking, chain-snapping, and a bit of song 'n dance… all accompanied by two world-renowned trombonists! These #GirlsWhoLift a nd their handsome 'bonists will perform a highly dangerous, recently legal feat of BOOM and BANG! Witness its premiere, right here in the Big Apple!
CAST:
Zofia Boehner: Rosa Palmeri* | Zorka Boehner: Natalie Rich* | Trombonist: Keith Caram*
*Actors appearing courtesy of Actors' Equity Association
about the artists
Rosa Palmeri is an actor who sometimes gets antsy and will then direct, write, paint, and make puppets. She most recently assisted André Gregory on The Designated Mourner , written by and starring Wallace Shawn, and then, on weekends, hopped a train back to Vermont—where she grew up—to direct a commedia version of The Emperor's New Clothes . She's played Muriel McComber in Ah, Wilderness! at The American Conservatory Theater; Sabina in The Skin of Our Teeth; the Gravedigger in Hamlet; and a Taoist in a workshop of The Happiness of Fish , with Dave Malloy and Rachel Chavkin. BFA: University of Evansville, MFA: ACT.
Natalie Rich is a co-creator of the web series "The Weekend Detectives," KEVIN!!!!! and Gimme an F! at The PIT and she currently co-hosts "Max & Natalie LIVE!" a weekly late night public access talk show. She generally prefers titles with exclamation points. Recent performances include Tartuffe , Horse Girls , Robin Hood and The Elephant Man , featuring Bradley Cooper. Natalie can be seen in short play festivals around town, heard on Huffington Post's Spoken Editions and she has developed new work with Ars Nova, Cherry Lane, Primary Stages, New Harmony and Williamstown. She studies sketch at UCB and is a Young Leader at The Center. BFA: University of Evansville.
Monday, June 12 at 7:30pm
General Admission
$15 in advance
$18 at the door
Stu./Sen./idNYC
$12
Estimated Runtime
60 minutes
share £
Credits
Produced by:
Rosa Palmeri & Natalie Rich
Written by:
Rosa Palmeri & Natalie Rich
Director:
Jenna Panther
Musical Director & Composer:
Riley Goodemote
Set Design:
Rosa Palmeri
Costume Design:
Sandy Klein
Stage Manager:
Jena Yarley
Photo credit:
Leah Rich
Links